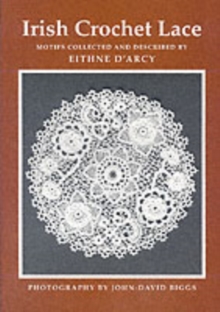 Irish Crochet Lace : Motifs from County Monaghan
Paperback
Description
Of all forms of crochet lace, the form known as "Irish Crochet" is probably the best known.
The Irish tradition for producing this work dates back to the 16th century when it was known as "nuns' work" from the fact that the technique and style was developed in Irish convent communities in imitation of continental lace making.
The manufacture of crocket lace did not become a cottage industry in Ireland until the middle of the 19th century, after the devastation caused by the Great Famine of the 1840s, when the development of home crafts was encouraged to create some small income for otherwise destitute families.
Eithne D'Arcy, who died din 1999, came from a family who were buying agents for Irish crochet lace in the area around Clones in County Monaghan.
This area was one of the principal centres of the Irish lace industry.
A lifelong involvement with the Irish lace makers inspired her to record her knowledge and describe the traditional motifs and patterns which were gradually being lost as the old lace makers died out. This is both a pictorial record of one of Ireland's crafts and a practical manual that sets out the steps in construction f a wider range of traditional motifs which can be built up into larger designs.
This edition includes clarified instructions for: nine-looped flower; flower; shamrock scroll; wheel; horse shoe; fern; and mitred fine lace motif.
Information
Format: Paperback
Pages: 64 pages, 219 b&w photographs
Publisher: Colin Smythe Ltd
Publication Date: 13/06/2003
Category: Lace & lacemaking
ISBN: 9780851055145
Free Home Delivery
on all orders
Pick up orders
from local bookshops