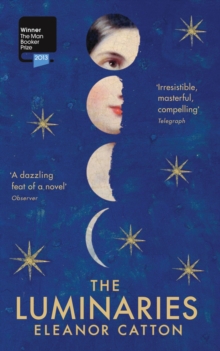 Description
It is 1866, and Walter Moody has come to make his fortune upon the New Zealand goldfields.
On arrival, he stumbles across a tense gathering of twelve local men, who have met in secret to discuss a series of unsolved crimes.
A wealthy man has vanished, a whore has tried to end her life, and an enormous fortune has been discovered in the home of a luckless drunk.
Moody is soon drawn into the mystery: a network of fates and fortunes that is as complex and exquisitely patterned as the night sky.
The Luminaries is an extraordinary piece of fiction.
It is full of narrative, linguistic and psychological pleasures, and has a fiendishly clever and original structuring device.
Written in pitch-perfect historical register, richly evoking a mid-19th century world of shipping and banking and goldrush boom and bust, it is also a ghost story, and a gripping mystery. It is a thrilling achievement and will confirm for critics and readers that Catton is one of the brightest stars in the international writing firmament.
Information
Format: Paperback
Pages: 848 pages
Publisher: Granta Books
Publication Date: 03/04/2014
ISBN: 9781847084323
Other Formats
Hardback from £14.65
EPUB from £7.00
Free Home Delivery
on all orders
Pick up orders
from local bookshops
Reviews
Showing 1 - 4 of 4 reviews.
Review by bodachliath
16/06/2015
Another one that (just about) managed to live up to the hype, which is saying something. I didn't even attempt to understand the astrological structure, but even without that it was an ambitious and mostly convincing period yarn. The first 300 pages or so are dense and intricate and require some concentration, but I was really drawn in after that - so probably a good book to take on holiday.
Review by alexrichman
16/06/2015
The Big Sleep is a great crime novel even though its author forgot to solve one of the murders. By contrast, this instant classic is intricately plotted - so many characters with so many secrets, each piecing together the jigsaw from different corners. It can seem impossible to keep track of who knows what about whom, but that's part of the fun in this expertly-written doorstopper - and that's just taking it as a basic Victorian pastiche. The astrology was mostly over my head (get it?), but I enjoyed the structural gymnastics of chapters waning like the moon. A superb shaggy dog story.
Review by zappa
23/09/2015
I should say first up that nothing I can say can really add to the reviews already posted of The Luminaries, and especially to that of "thewanderingjew" in June. It is an enormously frustrating book, which I, like others, read because it won a Man Booker, and which I read also because Catton has the decency to speak out against New Zealand's Prime Minister and a kiwi attitude that undervalues the arts. So well done, Ms Catton!Further, I should state the obvious – I do not have the skills in all my being to hold together a plot and characters and narrative and omnipotent authorial voice in the way Catton has. She has more talent in her little finger than I could dream of. Yet I am frustrated, and I, after all, forked out my money for the book. This became my book to read on days off, one coffee at a time, and so stretched itself over many months. That was the wrong way to read it, but I'm not sure I could have sustained a short reading of it, either. It became, I'm sad to say, a book that, for about 65% of its length, I found increasingly hard to pick up. As others have noted it did eventually gather its own momentum, but for me it was not enough to reimburse that hard slog of those first 500 pages. I can't blame Catton for my intellectual limitations: I'm sure a better reader could have kept track of the nuances of the plot. But ultimately I wander if I was really enticed to? The authorial voice, sort of Georgette Heyer meets Umberto Eco, was to this reader at first pretentious, and subsequently just irritating. The characters remained, to this reader, cardboard cut-outs, devoid of real motivation or weltanschauung. I'm thankful to the reader who pointed out the play on names, the stained Staines, the weathering Wetherall, the carved Carver. Perhaps then Georgette Heyer meets Umberto Eco meets John Bunyan?No: I'm sorry. There was momentum towards the end – almost too much, so that this intellectually challenged reader wondered what the hell was happening full stop. That at least led me to read the "in which …" headings of each chapter, after I'd read the text, to work out what I'd read. It didn't help much. Was there a resolution? I'm sure there was but not for me. Or perhaps this was a very post-modern novel, Georgette Heyer meets Umberto Eco meets John Bunyan meets Michel Foucault, for whom no resolution is possible?Like one or two other reviewers I was tempted to start again, not least to work out what I'd missed. But I'm sorry, life is too short, and I shall move on.
Review by Glorybe1
27/01/2016
I found this book quite confusing! It does seem very well written, but the constantly jumping backwards and forwards in each persons story I found a bit annoying. It is as others comment on, very mathematical in the way it is set up with the signs of the zodiac etc (I am not sure if I missed something there!) And I was very disappointed with the ending, you felt you were sort of hurtling towards something and then all of a sudden, whoops you had got there and nothing was really happening! As I have said I didn't really get it, and I am not sure was it me? or the way the book was written? Pity as it was such a long and complicated read.