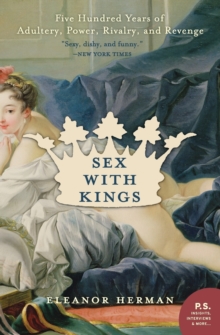 Sex with Kings : 500 Years of Adultery, Power, Rivalry, and Revenge
Paperback
Description
Throughout the centuries, royal mistresses have been worshiped, feared, envied, and reviled.
They set the fashions, encouraged the arts, and, in some cases, ruled nations.
Eleanor Herman's Sex with Kings takes us into the throne rooms and bedrooms of Europe's most powerful monarchs.
Alive with flamboyant characters, outrageous humor, and stirring poignancy, this glittering tale of passion and politics chronicles five hundred years of scintillating women and the kings who loved them.Curiously, the main function of a royal mistress was not to provide the king with sex but with companionship.
Forced to marry repulsive foreign princesses, kings sought solace with women of their own choice. And what women they were! From Madame de Pompadour, the famous mistress of Louis XV, who kept her position for nineteen years despite her frigidity, to modern-day Camilla Parker-Bowles, who usurped none other than the glamorous Diana, Princess of Wales.The successful royal mistress made herself irreplaceable.
She was ready to converse gaily with him when she was tired, make love until all hours when she was ill, and cater to his every whim.
Wearing a mask of beaming delight over any and all discomforts, she was never to be exhausted, complaining, or grief-stricken.True, financial rewards for services rendered were of royal proportions -- some royal mistresses earned up to $200 million in titles, pensions, jewels, and palaces.
Some kings allowed their mistresses to exercise unlimited political power.
But for all its grandeur, a royal court was a scorpion's nest of insatiable greed, unquenchable lust, and vicious ambition.
Hundreds of beautiful women vied to unseat the royal mistress.
Many would suffer the slings and arrows of negative public opinion, some met with tragic ends and were pensioned off to make room for younger women.
But the royal mistress often had the last laugh, as she lived well and richly off the fruits of her "sins."From the dawn of time, power has been a mighty aphrodisiac.
With diaries, personal letters, and diplomatic dispatches, Eleanor Herman's trailblazing research reveals the dynamics of sex and power, rivalry and revenge, at the most brilliant courts of Europe.
Wickedly witty and endlessly entertaining, Sex with Kings is a chapter of women's history that has remained unwritten -- until now.
Information
Format: Paperback
Pages: 320 pages
Publisher: HarperCollins Publishers Inc
Publication Date: 17/03/2005
Category: Social & cultural history
ISBN: 9780060585440
Free Home Delivery
on all orders
Pick up orders
from local bookshops
Reviews
Showing 1 - 5 of 18 reviews.
Previous | Next
Review by mrsholt
16/06/2015
Exhaustively researched, sly, to-the-point prose, with a surprisingly sympathetic eye towards its subjects.
Review by yougotamber
16/06/2015
This is a history book for EVERY ADULT reader. It's not THAT graphic but it does have a few parts not for the child's eye. The story is so well written, you won't feel like you have been reading about history. The stories flow with astonishing information that will make you say "really? wow!". I highly recommend for ANY reader. You will enjoy this.
Review by mchrzanowski
16/06/2015
This was a fun and quick read. It can be a bit confusing as the author skips around from ruler/mistress throughout different times. Some people may find it a little easier to follow if they take notes on who is who. The information was really interesting and entertaining. The only real negative aspect of the book for me was the way it was organized. Otherwise, I found it to be quite delightful and worth buying from the store.
Review by jshillingford
16/06/2015
Great romp through the many royal mistresses of Europe. The prose is easy to read, descriptive, and engaging. The author did a lot of research on her subject and it shows. The secton on Madame du Pompadour was especially well done, as she "reigned" as a royal mistress until she was quite old, comparatively. My only gripe with this book (and the reason for 4.5 stars instead of 5) is that the author jumps around in the timeline, and through countries. A more chronological approach would've been smoother. I look forward to reading the sequel, "Sex with the Queen."
Review by bookweaver
16/06/2015
Somehow seemed too much on the surface. Herman tells a lot of stories about various courtesans, but she never seems to put the phenomena in any sort of context. But maybe it's the nature of the beast.
Also by Eleanor Herman