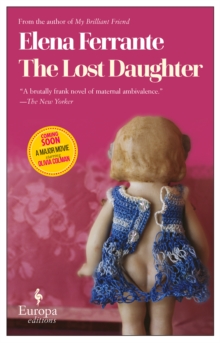 The Lost Daughter
Paperback
Information
Format: Paperback
Pages: 160 pages
Publisher: Europa Editions
Publication Date: 14/02/2008
ISBN: 9781933372426
Free Home Delivery
on all orders
Pick up orders
from local bookshops
Reviews
Showing 1 - 5 of 5 reviews.
Review by williecostello
16/06/2015
The Lost Daughter is an intriguing, if not quite enthralling, read. Its prose is direct and its story simple, but beneath this placid surface is a dark psychological undercurrent that suffuses the story with a disorienting and disturbing uncanniness.In simplest terms, The Lost Daughter is a meditation on womanhood and motherhood. The protagonist and narrator is a 48-year-old woman, physically separated and emotionally estranged from her two twentysomething daughters, though still deeply defined by the relationship she had and still has with them. As the story progresses, the reader is told more and more about the narrator's past, and made to feel the psychological torment that being a mother and being a woman has caused her. Simultaneously, the narrator is relating her interactions with a family she encounters while on vacation, all of whom she can't help but view through her own personally clouded lens.This synopsis may make the book sound like a thriller, but there is nothing sensational to its story: no plot twists, no grand conflicts, no unsolved mysteries. But The Lost Daughter does have the same eerieness and captivation often found in thrillers, expressed in its intense psychological portrait of a woman.Nonetheless, I was not entirely won over by this novel. Occasionally the narration was a little too explicit, spelling everything out for the reader. At other times the level of description just fell flat. But overall, I was left with the impression that though Ferrante is certainly a competent author, The Lost Daughter is perhaps not her best work. I look forward to reading something else of hers in the near future.
Review by drrtydenimdiva
16/06/2015
I loved the writing; very sophisticated and flowed perfectly. The translator did an excellent job. I wasn't super excited about the story, though. And the main character, Leda, just seemed a little melodramatic.
Review by snash
27/08/2015
An interesting exploration of the many ambivalent and tangled feelings of a mother for her daughter and motherhood, often more unconscious than in this book. The plot, however, didn't seem believable. It may have worked symbolically but not in reality.
Review by RandyMetcalfe
16/06/2015
Motherhood comes as naturally as air to some. To others, not so much. Leda is one of those others. Whether the fault lies in the tensions of her upbringing (it is possible that Leda's mother also felt the unnaturalness of her state) or in some peculiar admixture of traits unique to Leda, or, a further possibility, whether the so-called naturalness of motherhood has never been more than a fiction foisted on women — whatever the case, Leda's actions both in the past and in the present make her the subject of censure. Both public censure and private, since Leda frets upon her own unnaturalness ceaselessly but ineffectually.Leda is at a seaside holiday taking a break from her work as an English professor in Florence. Over the course of the next few weeks she will have cause to reconsider, though not reconcile, her decisions and actions as a mother. Early in her marriage and with two young daughters, Leda determined to reclaim her personal space, even her personal destiny, and abandoned both daughters and her husband. For just over three years she had no contact with them, only to return and reclaim them. Her current solitude is due to her, now adult, daughters having left to spend time in Canada with her ex-husband. But the physical lacerations we inflict on others and ourselves are as nothing to the psychic self-punishment we mete out unknowingly. And certainly Leda's perceptions and eventual actions on the crowded sandy shore suggest that she has not yet reconciled herself to her earlier abandonment.This is a closely narrated study of obsession and anxious self-regard, much in keeping with Ferrante's other early novellas. And equally stunning in its impressive control, delicate balance of public and private anxieties, and barely contained violence. Ferocious. And as always with Ferrante, highly recommended.
Review by katherineemilysmith
16/06/2015
Real honest. Almost desperate at times. Definitely were some translation errors.