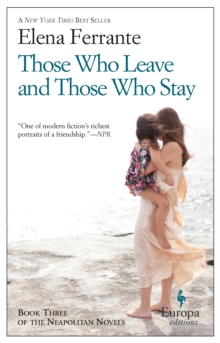 Those Who Leave and Those Who Stay
Paperback
Information
Format: Paperback
Pages: 424 pages
Publisher: Europa Editions
Publication Date: 02/09/2014
ISBN: 9781609452339
Free Home Delivery
on all orders
Pick up orders
from local bookshops
Reviews
Showing 1 - 5 of 5 reviews.
Review by Laura400
23/09/2015
Every bit as good as My Brilliant Friend, this third installment of the story recaptures the first installment's propulsive pace while chiseling further to bring out the themes and preoccupations of the work as a whole.It's really an extraordinary achievement, illuminating, excoriating and brutally honest. It's historical, and political and feminist. It's bracing. It's revelatory. It's as detailed and specific about its world as it is universal.I haven't yet read My Struggle, but I feel that this must be the counterpart to that.
Review by RandyMetcalfe
16/06/2015
Life is full of entanglements. And when two lives are as entangled as those of the protagonists of Elena Ferrante's Neapolitan Novels it becomes a moot point as to who it is that really leaves and who remains. Elena Greco has found literary success with the publication of her first novel, as well as a certain notoriety, and an enduring confidence in her power to effect change — she thinks it is positive change — in the lives of those dear to her. Her counterpart, Lila Cerullo, has found obscurity and destitution after a failed marriage, a failed love affair, and an unwanted birth. Yet, as ever, it is Lila and not Elena who seems to be in control of her own destiny. Even Elena's marriage to a well-connected but dull academic and her new life in Florence cannot free her from the suspicion that far from escaping the mire that is her childhood neighbourhood in Naples, she is ever at risk of sinking back into petty jealousies and crude emotions that suffocated her in her youth.The contrast between Lila and Elena is both sharper in this third novel in the series as it is more subtle. Elena is full of high politics and ideas about the class struggle, while Lila is being abused and maltreated by voracious overlords in a dismal Neapolitan factory. Elena has access to the power of the press and highly placed friends, but Lila knows that real power still lies at the sharp end of a knife. Elena is frustrated by her inability to help Lila in any meaningful way. Lila, on the other hand, desires only that Elena live the life of integrity that would somehow, in its purity, redeem Lila's sorry and sordid present condition. But for Ferrante, all contrasts are at best momentary and reversal after reversal consistently inverts expectation and interpretation. The effect is bewildering.At times this third novel can feel cerebral, almost passionless, as Elena self-consciously narrates the raising of her own consciousness. Have we strayed into the politics of the personal? Perhaps. But the real has its own demands and Elena's suppression of her own passionate nature has repercussions, unlooked for but perhaps not unexpected. By the end of the novel, Elena is literally taking flight for the first time (a journey from Rome to Montpellier, in France) even as, she can't help noticing, the floor under her feet trembles.I remain riveted. And somewhat in awe of Ferrante's skill at juggling huge political themes whilst rooting everything in the clinging mud of that Neapolitan neighbourhood from whence Elena and Lila sprang. Who knows what might yet flower in the remaining books in this series? I, for one, can hardly wait to read on.
Review by Booktrovert
16/06/2015
YOU GUYS!!! i am currently having major angst. i somehow managed to totally miss the fact that there will be a 4th book in this series.... and that it does not come out until september, 2015. (i stay away from reviews until i have had a chance to read a book (books) for myself.) so while this series was all over my radar, i did not know too much about the books at all. so now... i have to wait to find out where this is all going. i am really at loose ends here. and a little twitchy.anyway... my suffering aside...elena ferrante is so good at what she does. everything is so strong and evocative. this book is set during a tumultuous time in italy's history, and she brings it to life so well. there is so much aggressiveness going on in the story: the political unrest and opposing factions, the carabinieri, the personal lives of the characters which seem, sadly, so full of abuse and despair. it's all so intense, loud and combative. it would be easy for these elements to be overdone and annoy the reader, but ferrante handles it all so well. i would say that someone is going to have an excellent thesis on feminism in the 'my brilliant friend' series. the feminism theme seems to get even stronger in this third book. one of the ideas i enjoyed, later in the3rd story, occurs when elena recognizes she has endured two relationships that were based upon male power. elena develops a theory, and begins an essay about the ways that men have depicted women in literature, from the bible through flaubert. the examination of female friendship is very raw and honest - the state of relations between lila and elena are always in flux. in her recollections, elena presents us with the gamut of their friendship and doesn't shy away from uglier truths - that friends can experience hate, indifference, jealousy, disgust almost as easily as feeling fondness, love and respect towards a person who is a best friend. having ferrante bring this examination of female friendship to readers is a huge and necessary treat for the literary canon.in a review, writer Mona Simpson said this of the series:"...the Neapolitan novels are something else, an altogether different order of art. Sometimes this happens: a writer works steadily and diligently and then there is a leap into the extraordinary. Those Who Leave and Those Who Stay has been eagerly anticipated as the concluding volume of what had been for a long time called a trilogy. But there are still decades to cover in the saga of two girls from an impoverished neighborhood who try to get out and to make it, by way of the classical if increasingly unlikely means of betterment through education. We must be grateful. When this viscerally populated epic is complete it will give us what readers want most from prose fiction: a full world."so i will now wait for book #4. impatiently and anxiously. as with the previous books in this series, we are left with a cliffhanger. i may need a support group to get me through the next 8 months.
Review by RidgewayGirl
27/08/2015
This is a difficult book to review, both because it is the third of a four book series, and because I sped through it, not so much that I needed to find out what happened next, but because I was enjoying it too much to stop reading. And, having inhaled <i>Those Who Leave and Those Who Stay</i>, I now feel that I consumed it too quickly to have given it the attention that [[Elena Ferrante]]'s novel deserved. [Those Who Leave and Those Who Stay] continues the story of Lila and Lena, although their life circumstances and the nature of their relationship has kept them largely apart. While Lena continues on as a university graduate and author, Lila can't continue in her role as the wife of a man she hates. Both come face to face with the changes beginning to sweep Italy, Lena through contact with student activism and Lila seeing the need for workers to unionize and in the clashes between communists and fascists. I don't know how successful this book would be without the two that came before, but each segment of the larger story is more compelling than the last. I'm planning on reading the final book, [The Story of the Lost Child], as soon as it's released in English in September.
Review by crazeedi73
02/03/2016
This series will get under your skin and stay there. I can't wait to read the 4th book. Highly recommend