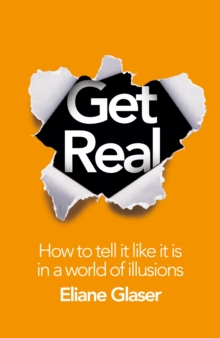 Get Real : How to Tell it Like it is in a World of Illusions
Hardback
Description
A passionate and entertaining guide to spotting and decoding the delusions we live under.Multinational oil corporations trumpet their green credentials.
Shadowy billionaires orchestrate `grassroots' political movements.
Public-spending cuts that target the poor are billed as `giving power to the people'.
Casually dressed employees play table football in airy open-plan offices, but work longer hours than ever before.These are just a few examples of the growing gap between appearance and reality in modern life.
With the melting away of the conflicts between East and West and Right and Left, the old ideologies were supposedly consigned to history.
But Eliane Glaser argues that they never really went away - they just went undercover, creating a looking-glass world in which reality is spun and crude vested interests appear in seductive new disguises.
A world of illusion, persuasion and coercion which aims to conceal the truth and beguile us all.
It's time to radically alter the way we perceive the world, to raise a sceptical yet optimistic eyebrow.
Time to get real.Get Real is a passionate and entertaining guide to spotting and decoding the delusions we live under - from `revolutionary' plus-size models to `world-saving' organic vegetables; from heavily scripted and edited `reality' TV to `life-changing' iPhone apps.
Busting the jargon and unravelling the spin, Get Real reveals the secrets about modern life that we were never supposed to know.
It's an insider's guide to understanding the present which puts the truth and the power to choose firmly in our hands.
Only by telling it like it is can we improve - and maybe even save - our world for real.
Information
Format: Hardback
Pages: 240 pages, Index
Publisher: HarperCollins Publishers
Publication Date: 01/03/2012
Category: Popular culture
ISBN: 9780007416813
Free Home Delivery
on all orders
Pick up orders
from local bookshops
Reviews
Showing 1 - 1 of 1 reviews.
Review by Parthurbook
16/06/2015
I wanted to like this book a lot - it's 'my sort of book' ; a challenge to conventional wisdom,a spotlight on the spin that invidiously defines the modern world. But ultimately, it under-delivers. Neither "quite brilliant" (Dame Jenni Murray) nor "laid out with precision, grace and urgency" (Zoe Williams) - it's ironic that the dust jacket is an example of the very symptoms that Glaser critiques.She themes each chapter (Politics, Social Mobility, Health, The Web, Media) and sets out to tell the 'truth' behind the ideology we're offered. Then fails to do so. What could have been a passionate call-to-arms is instead a sustained whinge about a lot of things she doesn't like, and a few things she does (but feels guilty about).Glaser has obviously read widely around each of her themes and quotes readily. But her sources have thought and written more deeply , so you're better off reading the original material for a real workout.