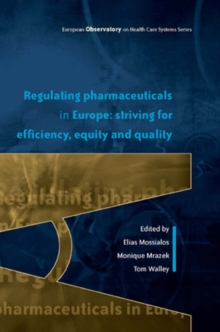 Regulating Pharmaceuticals in Europe: Striving for Efficiency, Equity and Quality
Paperback / softback
Description
"This thoughtful and comprehensive book represents the best work I have seen on the current situation concerning medication policies in the EU.
It is not just that this is a very up-to-date compendium of facts and data across a wide variety of domains that impact on pharmaceutical regulation.
The book is also strong on analysis of those facts as well."Jerry Avorn, Harvard Medical School. "This book offers a comprehensive examination of approaches to manage pharmaceutical expenditures in Europe. It is a must-read for those who seek to understand and navigate the changing regulatory environment for medicines in the European Union."Bernie O'Brien, McMaster University, Canada.
The rising cost of pharmaceutical expenditures in many European countries is of concern to governments required to make effective use of health care budgets.
Taking a broad perspective that encompasses institutional, political and supranational aspects of pharmaceutical regulation, this book examines approaches used to manage pharmaceutical expenditure across Europe and what impact these strategies have had on efficiency, quality, equity and cost of pharmaceutical care.Regulating Pharmaceuticals in Europe is an important book for students of health policy, regulation and management, and for health managers and policy makers.The editors:Elias Mossialos is Brian Abel-Smith Professor of Health Policy at the London School of Economics and Political Science and a Research Director of the European Observatory on Health Systems and Policies.Monique Mrazek is a Health Economist (Europe and Central Asia region) for the World Bank and formerly a Research Officer in Health Economics for the European Observatory on Health Systems and Policies.Tom Walley is Professor of Clinical Pharmacology at the University of Liverpool and Director of the UK National Health Technology Assessment Programme.Contributors: Julia Abelson, Christa Altenstetter, Vittorio Bertele', Christine Bond, Marcel L.
Bouvy, Colin Bradley, Steve Chapman, Anna Dixon, Michael Drummond, Pierre Durieux, Edzard Ernst, Armin Fidler, Eric Fortess, Richard Frank, Silvio Garattini, Leigh Hancher, Ebba Holme Hansen, Steve Hudson, Kees de Jonchere, Panos Kanavos, Sjoerd Kooiker, Jean-Marc Leder, Graham Lewis, Donald W.
Light, Alistair McGuire, Elias Mossialos, Monique Mrazek, Maria Pia Orru', Govin Permanand, Guenka Petrova, Munir Pirmohamed, Dennis Ross-Degnan, Frans Rutten, Steven Soummerai, David Taylor, Sarah Thomson, Tom Walley.
Information
Format: Paperback / softback
Pages: 392 pages
Publisher: Open University Press
Publication Date: 01/06/2004
Category: Health systems & services
ISBN: 9780335214655
Free Home Delivery
on all orders
Pick up orders
from local bookshops