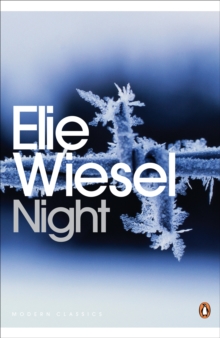 Description
Elie Wiesel's harrowing first-hand account of the atrocities committed during the Holocaust, Night is translated by Marion Wiesel with a preface by Elie Wiesel in Penguin Modern Classics.Born into a Jewish ghetto in Hungary, as a child, Elie Wiesel was sent to the Nazi concentration camps at Auschwitz and Buchenwald.
This is his account of that atrocity: the ever-increasing horrors he endured, the loss of his family and his struggle to survive in a world that stripped him of humanity, dignity and faith.
Describing in simple terms the tragic murder of a people from a survivor's perspective, Night is among the most personal, intimate and poignant of all accounts of the Holocaust.
A compelling consideration of the darkest side of human nature and the enduring power of hope, it remains one of the most important works of the twentieth century.Elie Wiesel (b. 1928) was fifteen years old when he and his family were deported by the Nazis to Auschwitz.
After the war, Wiesel studied in Paris and later became a journalist.
During an interview with the distinguished French writer, Francois Mauriac, he was persuaded to write about his experiences in the death camps.
The result was his internationally acclaimed memoir, La Nuit or Night, which has since been translated into more than thirty languages.If you enjoyed Night, you might also like Primo Levi's The Periodic Table, also available in Penguin Modern Classics.'A slim volume of terrifying power'The New York Times'To the best of my knowledge no one has left behind him so moving a record' Alfred Kazin'Wiesel has taken his own anguish and imaginatively metamorphosed it into art' Curt Leviant, Saturday Review
Information
Format: Paperback
Pages: 144 pages
Publisher: Penguin Books Ltd
Publication Date: 25/05/2006
Category: Autobiography: general
ISBN: 9780140189896
Other Formats
Paperback from £6.65
EPUB from £4.99
Hardback from £31.50
Free Home Delivery
on all orders
Pick up orders
from local bookshops
Reviews
Showing 1 - 3 of 3 reviews.
Review by gbill
16/06/2015
After having been exposed to Holocaust documentaries and movies over the years, I didn't think I would get as much out of reading "Night" as I did. It's a great book. The writing is brutally honest about not only the atrocities of the Nazis but also the crises of faith and moments of personal weakness in their victims. It's done with a terse, conversational style that reads almost as if you were engaged in dialog with Wiesel, but on the other hand it is at times quite profound ("I was the accuser, God the accused...") and poetic ("Never shall I forget that night...."). Wiesel does not shy away from his own feelings of shame, shame forever, at how he felt towards his father, and for not answering his last words, which were calls to his son. He relays other horrifying stories of a son killing his father for bread, a Rabbi's son distancing himself from his father intentionally during a forced run during an evacuation, and Jews trampling and suffocating one another. There are poignant moments throughout, such as the last time he saw his mother and little sister, and how quickly the slipped out of his life forever.Wiesel also does not shy away from his feelings towards God at the time, e.g. "Where is God? .... This is where - hanging from this gallows." Or, the Jews as having transcended everything "death, fatigue, our natural needs....we were the only men on earth." One of the dying states "I have more faith in Hitler than in anyone else. He alone has kept his promises, all his promises, to the Jewish people." These types of thoughts are things that I did not anticipate and were fascinating to me.The introductory chapter in this edition included passages from the original Yiddish that I think should have survived editing, as well as an appendix that includes Wiesel's Nobel Prize acceptance speech. There is no way anyone can truly understand what it was like to have been in a Concentration camp but this book provides insight into it in a very honest, humble way. It more than accomplishes its goal of "bearing witness"; it is a moving, stirring book.
Review by avhacker
16/06/2015
horrific and beautifully written
Review by john257hopper
16/06/2015
A concise but gripping Holocaust narrative, one of the earliest such that is really one of the standard texts. It is the young Hungarian Jew's account of his life in the ghetto in Sighet, with its growing restrictions and oppressions; transport to Auschwitz, where he was separated from his mother and sister, whom he never saw again; removal with his father to a minor camp Buna where they were until the Soviet advance caused Buna's inmates to be sent on a death march to Buchenwald, on which many died; then the final time there, during which his father died, and starvation and disease threatened to wipe out the few remaining survivors. The narrative is sparse and all the more effective for it; the book is only 115 pages but leaves a powerful impression on the mind of the reader, with particular examples of this being especially the author's increasing sense of sheer helplessness including his loss of faith in any kind of God, and the growing dehumanisation of the victims, as they end up starving and frozen, and fighting each other for scraps of bread.
Also in the Penguin Modern Classics series | View all