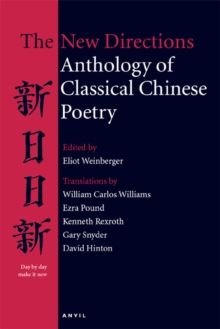 New Directions Anthology of Classical Chinese Poetry
Paperback
Description
This rich compendium of translations is the first to look at Chinese poetry through its enormous influence on American poetry.
Starting with Ezra Pound's "Cathay" (1915), it includes translations by three other American poets (William Carlos Williams, Kenneth Rexroth, Gary Snyder) and a translator-scholar-poet (David Hinton), all long associated with "New Directions", the great New York literary publishing house founded just over 70 years ago.The collection gathers some 200 poems by nearly 40 poets, from the anonymous early poetry to the great masters of the T'ang and Sung dynasties.
Also included are previously uncollected translations by Pound, a selection of essays (some also not previously collected) by all five translators and biographical notes that are a collage of poems and comments by both the American translators and the Chinese poets themselves. "New Directions" was founded by James Laughlin, then a Harvard undergraduate, in 1936 after Ezra Pound told him to do something more "useful" than write poetry. Ever since "New Directions" has been dedicated to publishing (and keeping in print) the writers who are experimental, challenging, offbeat, and curiously classic both in English and in translation.
Every day ND tries to keep language "new".
Free Home Delivery
on all orders
Pick up orders
from local bookshops