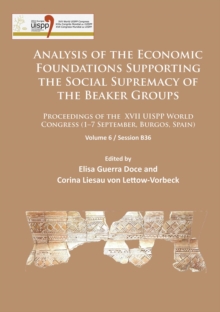 Analysis of the Economic Foundations Supporting the Social Supremacy of the Beaker Groups : Proceedings of the XVII UISPP World Congress (1-7 September, Burgos, Spain): Volume 6 / Session B36
Paperback / softback
Description
The Bell Beaker phenomenon is one of the most fascinating horizons in European Later Prehistory, due to its vast geographical distribution, the intrinsic value of some of the artefacts comprising the Beaker package, or its supposed links to certain kinds of ritual ceremonies as shown by the frequent deposition of Beaker items in burial contexts.
At present, the idea that the Beaker package is best interpreted as a symbol of power common to socially-prominent individuals by the mid-to-late third millennium BC is widely acknowledged by scholars in this field.
From this point of view, the Beaker phenomenon is seen as the archaeological evidence representing an ideology which was shared by a number of prehistoric societies geographically scattered throughout much of Western and Central Europe, or, more specifically, was only shared by elite individuals within these territories.
The strategies employed by these individuals to attain such privileged statuses, however, are poorly known.
Therefore, in the framework of the XVII World UISPP Congress, held in September 2014 in Burgos (Spain), a session entitled 'Analysis of the economic foundations supporting the social supremacy of the Beaker groups' (B36) was organised by this volume's two editors.
The session focused mostly on examining this issue at a European level, and less on the study of the Beaker package itself, as a way of looking at the economic foundations that helped these individuals attain their higher social statuses.
The proximity of Beaker sites to natural routes of communication highlights the importance of exchange networks through which people, objects and ideas may have circulated through Europe during this time.
The Amesbury Archer in southern England is one of the best examples of interaction within Beaker territories.
Having said this, considering that Beaker pots themselves were not exchanged over long distances, attention must be paid to other mechanisms of diffusion.
The present volume comprises the papers presented at this session suggesting that Beaker groups may have controlled certain products and technologies.
Information
Format: Paperback / softback
Pages: 164 pages, Illustrated throughout in black & white
Publisher: Archaeopress
Publication Date: 28/02/2016
Category: Ancient history: to c 500 CE
ISBN: 9781784913076
Free Home Delivery
on all orders
Pick up orders
from local bookshops
Also in the Proceedings of the UISPP World Congress series | View all