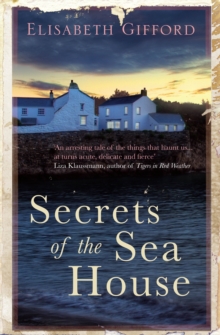 Secrets of the Sea House
Paperback
Description
***Shortlisted For Historical Writers' Association's Debut Crown For Best First Historical Novel***Scotland, 1860.
Reverend Alexander Ferguson, naive and newly-ordained, takes up his new parish, a poor, isolated patch on the Hebridean island of Harris.
His time on the island will irrevocably change the course of his life, but the white house on the edge of the dunes keeps its silence long after Alexander departs. It will be more than a century before the Sea House reluctantly gives up its secrets.
Ruth and Michael buy the grand but dilapidated building and begin to turn it into a home for the family they hope to have.
But their dreams are marred by a shocking discovery.
The tiny bones of a baby are buried beneath the house; the child's fragile legs are fused together - a mermaid child.
Who buried the bones? And why? Ruth needs to solve the mystery of her new home - but the answers to her questions may lie in her own past.
Based on a real nineteenth-century letter to The Times in which a Scottish clergyman claimed to have seen a mermaid, Secrets of the Sea House is an epic, sweeping tale of loss and love, hope and redemption, and how we heal ourselves with the stories we tell.
Information
Format: Paperback
Pages: 320 pages
Publisher: Atlantic Books
Publication Date: 01/08/2013
Category: Historical fiction
ISBN: 9781782391111
Other Formats
Paperback from £6.49
EPUB from £3.99
Free Home Delivery
on all orders
Pick up orders
from local bookshops
Reviews
Showing 1 - 2 of 2 reviews.
Review by nicx27
16/06/2015
This book is set both in the 1860s and the 1990s on the Scottish island of Harris. In 1960 Reverend Alexander Ferguson is the new minister with an interest in mermaids, Selkies and other similar creatures. In the 1990s, Ruth and her husband have moved to the Sea House where Alexander once lived to start a holiday business but not long after moving in they find the bones of a baby whose legs were fused together. Ruth is a troubled character with many problems in her past to deal with and the discovery adds to her troubles, but also makes her intrigued to try and find out more about the history of the Sea House and its former occupant.It's a lovely read and one which I found thoroughly enjoyable. I loved the interweaving of the two stories which had little to connect them but worked well together. I particularly liked the character of Moira, the woman who worked in Alexander's house and how she learned so much from him. I love to read books about the Scottish islands and this is a gentle read which carried me along. I found myself drawn into the two stories and the beautiful, if harsh, backdrop. I'm looking forward to this author's second novel whenever it may come.
Review by lexieconyngham
16/06/2015
Hum. Mostly good, I think, but with some reservations, which are more technical than anything. There is a large cast of characters in two timelines (yes, I know I'm guilty of casts of thousands myself) and she doesn't do enough to give gentle reminders as to who is what. Some plotlines fade out, and some finish too abruptly. The church background, which is crucial to the earlier timeline and incidental in the modern timeline, is confused (what is her clergyman? Is he Presbyterian? Episcopalian?) and at some points there are downright errors (Archbishops are Your Grace, and there aren't any Episcopalian / Anglican ones in Scotland; Bishops are My Lord; the Bishop of Edinburgh would be unlikely to appoint a clergyman to a Western Isles parish; a clergyman wears a surplice, not a surplus; a minister is not a vicar, etc.). The text hasn't been justified, which looks odd, but is probably not her fault. However, I liked her three main characters very much, with all their faults and grievances, and the setting is appealing and well written. Well worth a tidy up.