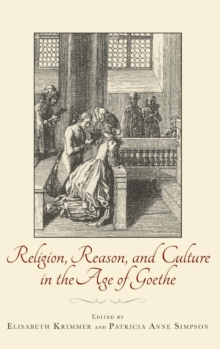 Religion, Reason, and Culture in the Age of Goethe
Hardback
Description
The eighteenth century is usually considered to be a time of increasing secularization in which the primacy of theology was replaced by the authority of reason, yet this lofty intellectual endeavor played itself out in a social and political reality that was heavily impacted by religious customs and institutions.
This duality is visible in the literature and culture of late eighteenth- and early nineteenth-century Germany.
On the one hand, authors such as Goethe, Schiller, and Kleist are known for their distance from traditional Christianity.
On the other hand, many canonical texts from the late eighteenth and early nineteenth centuries -- from Goethe's Faust to Schiller's Die Jungfrau von Orleans to Kleist's Michael Kohlhaas -- are not only filled with references to the Bible, but invoke religious frameworks. Religion, Reason, and Culture in the Age of Goethe investigates how culture in the Age of Goethe shaped and was shaped by a sustained and multifaceted debate about the place of religion and religious difference in politics, philosophy, and culture, enriching our understanding of the relationship between religion and culture during this foundational period in German history. Contributors: Frederick Amrine, Claire Baldwin, Lisa Beesley, Jane K.
Brown, Jeffrey L. High, Elisabeth Krimmer, Helmut J. Schneider, Patricia Anne Simpson, John H. Smith, Tom Spencer. Elisabeth Krimmer is professor of German at the University of California, Davis.
Patricia Anne Simpson is professor of German at Montana State University.
Free Home Delivery
on all orders
Pick up orders
from local bookshops