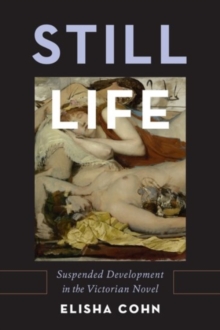 Still Life : Suspended Development in the Victorian Novel
Hardback
Description
Still Life: Suspended Development in the Victorian Novel rethinks the nineteenth-century aesthetics of agency through the Victorian novel's fascination with states of reverie, trance, and sleep.
These states challenge contemporary scientific and philosophical accounts of the perfectibility of the self, which privileged reflective self-awareness.
In dialogue with the field of literature and science studies and affect studies, this book shows how Victorianwriters used narrative form to respond to the analytical practices and knowledge production of those other disciplines.
Drawing upon canonical texts-by Charlotte Bronte, George Eliot, George Meredith, and Thomas Hardy-Still Life contends that depictions of non-purposive perceptual experience suspend theprocesses of self-cultivation (Bildung) central to Victorian aesthetics, science, psychology, and political theory, as well as most critical accounts of the novel form.
Departing from the values of individual cultivation and moral revelation associated with the genre, these writers offer an affective framework for understanding the subtly non-instrumental powers of narrative.
Victorian novels ostensibly working within the parameters of the Bildungsroman are suspended by moments of "still life":a decentered lyricism associated with states of diminished consciousness.
They use this style to narrate what should be unnarratable: experiences not dependent on reflective consciousness, which express a distinctive ambivalence toward dominant developmental frameworks of individualself-culture.
Information
Format: Hardback
Pages: 272 pages, 2 halftones
Publisher: Oxford University Press Inc
Publication Date: 11/02/2016
Category: Literary studies: c 1800 to c 1900
ISBN: 9780190250041