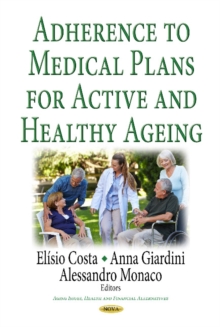 Adherence to Medical Plans for an Active & Healthy Ageing
Hardback
Description
Non-adherence to medical plans remain a challenge for health care professionals and scientists, as their efforts to improve and explain patients adherence appear to be ineffective.
In fact, a study by the World Health Organization found that only 50% of the patients in developed countries adhere to recommended treatment plans.
This degree of non-adherence results in a high number of patients that do not get the maximum benefits of medical treatment, which is associated with high health care costs, lower quality of life and poor health outcomes.
A polypharmacy is often associated with inappropriate prescriptions, drug-drug and drug-disease interactions, and prescription cascade, which can all increase the risk of adverse drug reactions and therefore the discontinuation of treatment.
In addition, the management of chronic diseases requires the patients continuous psychological adaptation and behavioural reorganization to face recurrent changes in therapeutic indications.
We propose this book edition given the great clinical-socio-economic impact of non-adherence in global healthcare systems and the lack of advocacy both at the public and at political levels.
In fact, non-adherence to medical plans is a double burden affecting the clinical outcome and consequently healthcare resources: it wastes pharmaceutical resources and prevents the correct treatment of specific conditions, leading to further medical expenditures and hospitalization associated with lower quality of life and poor health outcomes.
Non-adherence to medical plans is a public health problem that affects all people in general, but with particular significance in older adults, as they show the co-occurrence of multiple chronic diseases and conditions.
Many interventions to improve adherence have been described in the literature.
Most interventions are associated with adherence improvements, but not with improvements in other outcomes, such as biomarkers, morbidity, mortality, quality of care, quality of life, patients satisfaction, health care utilization and costs. In fact, adherence rates remained unchanged over the last few decades.
The reasons for the slow progress seem to be the lack of comprehensive theoretical models to explain non-adherence and to explain the potential success of a given intervention.
Moreover, we believe that in the near future research in this area will be increased significantly, as this area is one of the priorities of the Horizon 2020 of European Commission for Research and Innovation.
Information
Format: Hardback
Pages: 310 pages
Publisher: Nova Science Publishers Inc
Publication Date: 01/10/2017
Category: Age groups: the elderly
ISBN: 9781536122930
Free Home Delivery
on all orders
Pick up orders
from local bookshops