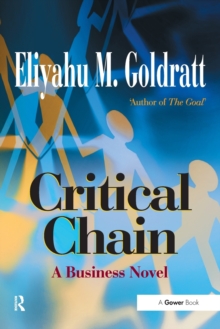 Critical Chain : A Business Novel
Paperback
Description
This fast-paced business novel does for project management what The Goal and It's Not Luck have done for production and marketing. Goldratt's novels have traditionally slain sacred cows and delivered new ways of looking at processes which seem like common sense once you read them.
Critical Chain is no exception. In perhaps Eli's most readable book yet, two of the established principles of project management, the engineering estimate and project milestones, are found wanting and dismissed, and other established principles are up for scrutiny - as Goldratt once more applies his Theory of Constraints.
The approach is radical, yet clear, understandable and logical.
New techniques are introduced, and Project Buffers, Feeding Buffers, Limit Multitasking, Improved Communications and Correct Measurements make them work.
Goldratt even handles the complicated statistics of dispersed variability versus accumulated variability so deftly you won't even be aware of learning about them - they'll just seem like more common sense! Critical Chain is critical reading for anyone who deals with projects. If you use block diagrams, drawings or charts to keep track of your activities, you are managing a project - and this book is for you.
Information
Format: Paperback
Pages: 258 pages
Publisher: Taylor & Francis Ltd
Publication Date: 04/09/1997
Category: Sociology & anthropology
ISBN: 9780566080388
Free Home Delivery
on all orders
Pick up orders
from local bookshops
Reviews
Showing 1 - 1 of 1 reviews.
As it says on the front cover, this book is a "Business Novel" i.e. an engaging story set in the business/academic world which teaches the reader important concepts through the character interactions and events that take place within the story. Unfortunately the title does little to tell you that this book is about applying the Theory of Constraints to the area of project management. That said however, the book is a very easy and informative read and follows in the steps of The Goal and It's Not Luck (both by the same author). Indeed a large portion of Critical Chain is dedicated to summarising the material (TOC and Evaporation Clouds) covered in The Goal and It's Not Luck. I found the information presented in Critical Chain easily accessible and understandable but the format of the book (a business novel) tends to make it easy to forget as well and I think the author would have done well to include a "what we learned" section at the end of each chapter or an index at the very least. Having done a fair amount of project management myself I found myself nodding in recognition with many of the scenarious that are detailed in the book and found the solutions presented to be most useful and eye opening.From the back cover: Critical Chain, a gripping fast-paced business novel, does for Project Management what Eli Goldratt's other novels have done for Production and Marketing. Dr. Goldratt's books have transformed the thinking and actions of management throughout the world.If you have read The Goal and It's Not Luck you will want to read Critical Chain because you understand how Eli Goldratt's books can change how you think about business.