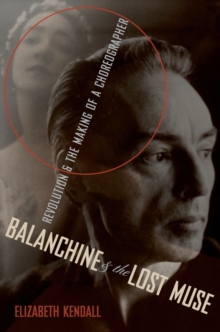 Balanchine and the Lost Muse : Revolution and the Making of a Choreographer
Hardback
Description
Balanchine and the Lost Muse is a dual biography of the early lives of two key figures in Russian ballet, in the crucial time surrounding the Russian revolution: famed choreographer George Balanchine and his close childhood friend, ballerina Liidia (Lidochka) Ivanova.
Tracing the lives and friendship of these two dancers from years just before the 1917 Russian Revolution to Balanchine's escape from Russia in 1924, author Elizabeth Kendall sheds new light ona crucial flash point in the history of ballet-one where politics and art meet in legendary St.
Petersburg, both culture and nation struggling to reconfigure themselves in the wake of the birth of modern Russia. Drawing upon extensive archival research, Kendall weaves a fascinating tale of this crucial period in the life of the man who would ultimately go on to be the most influential choreographer in modern ballet.
Abandoned by his mother on the steps of the St. Petersburg Imperial Ballet Academy in 1913 at the age of nine, Balanchine spent his formative years studying the art of dance in Russia's tumultuous capital city.
It was there, as he struggled to support himself while studying and performingballet, where Balanchine met Ivanonva, the first dancer with whom he would ever compose and dance.
A talented and bold dancer who grew close to the Bolshevik elite in her adolescent years, Ivanova was a source of great inspiration to Balanchine-both during their youth together, and later in life,after her tragic and mysterious death just days before she had planned to leave Russia with Balanchine and their friends in 1924.
Although he would have a great number of muses, many of them lovers, the dark beauty of his dear friend Lidochka haunted much of his work for years to come.
Part biography and part urban cultural history, Balanchine and the Lost Muse presents a sweeping account of the heyday of modern ballet and the culture at the heart of the unmoored ideals, futuristicvisions, and human decadence that characterized the Russian Revolution.
Information
Format: Hardback
Pages: 304 pages, 30 b/w halftones
Publisher: Oxford University Press Inc
Publication Date: 12/09/2013
Category: Ballet
ISBN: 9780199959341
Free Home Delivery
on all orders
Pick up orders
from local bookshops