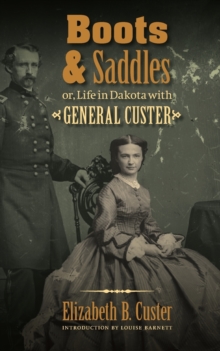 Boots and Saddles or, Life in Dakota with General Custer
Paperback / softback
Description
The honeymoon of Elizabeth Bacon and George Armstrong Custer was interrupted in 1864 by his call to duty with the Army of the Potomac.
Her entreaties to be allowed to travel along set the pattern of her future life.
From that time onward, she did indeed accompany General Custer on all his major assignments except the summer Indian campaigns, "the only woman," she said, "who always rode with the regiment." This is the story of Elizabeth B.
Custer (1842-1933), told in her own words. She was not only a housewife on the Plains; she was whatever the occasion demanded: nurse to a group of frostbitten soldiers; any-hour-of-the-day hostess to the regiment, since her husband was not fond of entertaining; the garrison's favorite confidante (and many an interesting story she has to tell); and would-be Indian fighter whenever the women of the regiment had to be left alone.
Boots and Saddles also offers a gentle, loving portrait of George Armstrong Custer, husband and man, by the person who knew him best.
Elizabeth Custer's absolute devotion to him is revealed in every line of her story, which ends, appropriately enough, with the day on which she received the news of the disaster at Little Big Horn.
Information
Format: Paperback / softback
Pages: 342 pages, 1 illustration, 1 map, 1 appendix
Publisher: University of Nebraska Press
Publication Date: 01/12/2010
ISBN: 9780803234567
Other Formats
Paperback / softback from £13.95
Hardback from £19.95
Paperback from £13.95
Also by Elizabeth Bacon Custer | View all