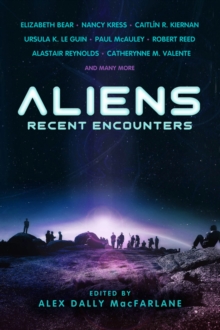 Aliens: Recent Encounters
Paperback / softback
Description
Under the countless billions of stars in the universe, what forms will alienlife take?
How will they live? And what will happen when we meet them?Aliens: Recent Encounters collects answers to these questions from some oftoday's best science fiction writers.
From first encounters to lifealongside aliens - and stories of the aliens' own lives - hereare many futures: violent and peaceful, star-spanning and personal.
Only onething is certain: alien life will defy our expectations.
Information
Format: Paperback / softback
Pages: 384 pages
Publisher: Prime Books
Publication Date: 04/06/2013
Category: Anthologies (non-poetry)
ISBN: 9781607013914
Free Home Delivery
on all orders
Pick up orders
from local bookshops