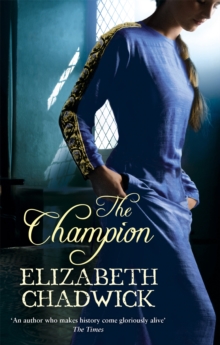 Description
Alexander and Hervi de Montroi, half-brothers with no inheritance, meet in France.
Hervi is a professional jouster and Alexander, fleeing the beatings of an English monastery, needs a trade.
Despite misgivings, Hervi takes him on as his squire, introducing him to the travellers' immoral lifestyle.
He befriends a girl, Monday, taking care of her after her parents die until, pregnant with Alexander's child, she leaves, finding shelter in a castle as a seamstress.
Noticed by King John, she becomes his mistress in England, bearing his son and gaining a house.
Meanwhile, Stefan has returned to England too, in the pay of an Earl - they meet again at court and, now older, fall in love.
They have the King's blessing, but Monday's grandfather, now heirless, sees her as a way to gain power.
She escapes his kidnapping to be reunited with Alexander on the land granted to him by the Earl.
Information
Format: Paperback
Pages: 512 pages
Publisher: Little, Brown Book Group
Publication Date: 01/05/2006
Category: Historical fiction
ISBN: 9780751538694
Free Home Delivery
on all orders
Pick up orders
from local bookshops
Reviews
Showing 1 - 4 of 4 reviews.
Review by littlebookworm
16/06/2015
This book was very pleasant brain candy. I liked all the characters that I was supposed to like and hated (occasionally pitied) the characters I was supposed to hate. The romance was well done and believable. I liked the atmosphere most of all, as it fit very comfortably with my knowledge of medieval history, minus the modern language of course. The historical characters fit their personalities in a way that I appreciated. A pleasant read, a good way to pass time, and I definitely liked it for that. I'll be reading more of her work for the atmosphere and the brain candy, so often necessary after a long read.
Review by Kasthu
16/06/2015
This novel is set against the tournament circuits of the late 12th and early 13th centuries. Alexander de Montroi, an escapee from a brutal regime at Cranwell Priory, goes to his brother, a tourney knight. Eventually, he becomes a knight himself, eventually entering into the retinue of William Marshal. Meanwhile, Monday de Cerezay is the daughter of a tourney knight and seamstress. She and Alexander fall in love—with adverse results.Once again, Elizabeth Chadwick gives us a wonderful rendering of the 12th century, combining romance with a wealth of historical detail that never bogs the story down. I was especially fascinated with the marriage scene, where Alexander and Monday's son was legitimized. The reason why I love Chadwick's novels so much is that she always manages to create a story that draws the reader in. Although the romance seems a bit pedestrian at times, it's also a bit bittersweet; they don't really realize how much they love each other until after they've parted ways. I found Monday's motives for leaving a little perplexing, though. Still, the characters are such that you really find yourself involved in their story. There's a nice blend of historical fact and fiction, which lends itself well to Alexander and Monday's story. It's not my favorite Elizabeth Chadwick novel, but it's still very good.
Review by sds6565
16/06/2015
An absorbing read, detailed character description, well thought out plot right to the end of the book. Good sub-plots interwoven through book. The main characters Monday and Alexander proved they are human with infidelities like some of usl have today
Review by Kassilem
16/06/2015
Elizabeth Chadwick is definitely a favorite author of mine. I can stay up reading her books late into the night. This book may be one of my favorites of her books themselves. We have Monday de Cerizay, the daughter of a tourney knight and Alexander de Montroi, the brother of one, soon to become one himself. It's set in the late 12th c and early 13th c. I know Chadwick has done a wealth of research for her novels and it certainly shows in the authenticity, but the history never pulls the reader away from the story itself. The romance is refreshing as well set in a time where relationships are less like games and more heartfelt. It's a very enjoyable read, and I'd recommend it to anyone who likes historical romance.