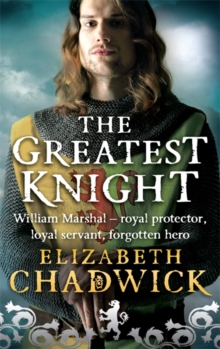 The Greatest Knight : The Story of William Marshal
Paperback
Description
Historical fact and fiction are entwined in this engrossing story about the infamous William Marshal.
He was the penniless young knight who was plucked from obscurity to become a royal favourite and went on to be described as 'the true Lancelot'.
This is the fascinating fictionalised story of the jealousies, romance and conflict within the royal court that led to him becoming a forgotten hero.
Information
Format: Paperback
Pages: 576 pages
Publisher: Little, Brown Book Group
Publication Date: 03/07/2006
Category: True stories
ISBN: 9780751536607
Free Home Delivery
on all orders
Pick up orders
from local bookshops
Reviews
Showing 1 - 5 of 14 reviews.
Previous | Next
Review by Tudorrl
16/06/2015
I really loved this book. Despite have read numerous biographies of Eleanor of Aquitaine I have never really heard about William Marshall.He is a fascinating character and Elizabeth Chadwick brings both him and the period to vivid life. The details are fantastic and gave me plenty of food for thought.I can't recommend this book highly enough - READ IT!!
Review by john257hopper
16/06/2015
Though overall I still prefer Sharon Penman's Medieval historical novels, this is the best of this author's that I have read. This is probably because it is the closest to major historical events and the real life William Marshal is a more interesting character than some of the more stereotypical heroes/heroines of other of her novels like Shadows and Strongholds. Plus the Angevins are just so wonderful to read about in both fiction and non-fictional forms, who can resist?
Review by wyvernfriend
16/06/2015
The story rings pretty true, and is written in a way that brings you through the story without too much modern jarring or too much detail which would detract from the story, although I really would have like to know more about some aspects of the story, I found that in fact there is little known about that period. Any historical novel that comes with a bibliography and some explination of they why of changing certain aspects of characters is a blessing.William Marshal is the fourth son and as such is expected to make his own way in the world, but in a world where conflict defines things he has to fight for his place in the world. He also has to ensure that although he is caught up in the politics that he keeps himself safe from some of the side-effects.I enjoyed it and liked the characters enough to want more.
Review by Misfit
16/06/2015
This was a wonderful story and much different from Chadwick's previous books, but as to be somewhat expected as Marshal's early life was one of duty to his lord(s) and not leaving much room for romance. A fascinating look at a true, honorable and loyal man, who in the end was well rewarded for his loyalty by marriage to a wealthy heiress who became his life's soul mate. Much of the book is involved with the treachery and intrigue of the Plantagenet court and their lives -- you won't see as much heart stopping page turning excitement as you might have found some of the author's previous works, but still excellent reading just the same. It was also wonderful getting a closer look at those Plantagenets, Henry II, young Henry, Eleanor, Richard I and the always evil Prince John. It's going to be even harder now to wait for Sharon Kay Penman's third novel in her own trilogy of this family, The Devil's Brood. I am always amazed as to how this author can effortlessly transport me to another time and place. Highly recommeded, and the sequel to this book, The Scarlet Lion is worth checking out as well.
Review by abruno
16/06/2015
Elizabeth Chadwick really outdid herself with this novel about William Marshal, son of the infamous John Marshal, the man behind the "the hammer and anvil" speech. When William was 6 years old his father pledged him as a hostage to King Stephen during a siege. When his father turned sides and broke his word, William's death was a foregone conclusion. Fortunately for William, King Stephen had no intention of murdering a child and he was spared. Marshal is penniless and with no land to call his own when he enters the service of King Henry II. He is desperate to earn his rank among the others in King Henry's retinue – to be more than just the son of John Marshal. Brilliant in the tourney field and loyal to a fault, he quickly wins the attention of Eleanor of Aquitaine. After William gallantly saves her life, she asks him to join her son's household – to train and teach the heir to the throne of England. Perhaps William's job would've been a bit easier had he served another family – they didn't call Henry II and Eleanor of Aquitaine's children the Devil's Brood for nothing!William is the very definition of chivalry and if you're like me, you'll fall completely in love with him! I first met William in Sharon Kay Penman's Devil's Brood and was intrigued - I was dying to know more about him and see experiences through his eyes. Well, Chadwick has scratched my itch so to speak and I LOVED EVERY PAGE! There's a little bit for everyone in this novel – fighting, loving, hating, betrayal, loyalty – it's all there!!!But wait! There's more! The Greatest Knight has a sequel…YEAH, more William!!! It's called The Scarlet Lion and will be released in the US on March 1, 2010. I, for one will be waiting at the doors of my local bookstore that day!My Rating: 5/5
Also in the William Marshal series | View all