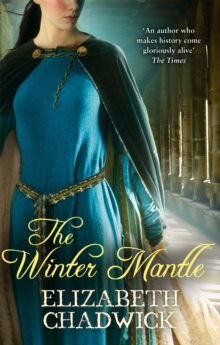 The Winter Mantle
Paperback
Description
Fresh from his defeat of King Harold at the Battle of Hastings, William of Normandy has returned home in triumph, accompanied by the English nobles he cannot trust to leave behind. For Waltheof of Huntingdon, however, rebellion is not at the forefront of his thoughts. From the moment he catches sight of Judith, daughter of the King's formidable sister, he knows he has found his future wife.
When Waltheof saves Judith's life, it is clear that the attraction is mutual.
But marriage has little to do with love in mediaeval Europe. William refuses to let the couple wed and Waltheof joins an uprising against him. William crushes the rebellion but decides the best way to keep Waltheof in check is to agree to the marriage.
But is the match between Saxon earl and Norman lady one made in heaven or hell? As their children grow, Waltheof and Judith must choose between their feelings for each other and older loyalties...Based on an astonishing true story, THE WINTER MANTLE reaches from the turbulent reign of William the Conqueror to the high drama of the crusades...
Information
Format: Paperback
Pages: 512 pages
Publisher: Little, Brown Book Group
Publication Date: 18/01/2007
Category: Historical fiction
ISBN: 9780751538403
Free Home Delivery
on all orders
Pick up orders
from local bookshops
Reviews
Showing 1 - 3 of 3 reviews.
Review by ancestorsearch
16/06/2015
This book takes you back to the 11th Century. The battle on the field and in the hearts. Chadwick does a wonderful job telling the story of mother/daughter and husband and father. It really takes you back in time. I had a hard time putting the book down. I enjoyed from beginning to end.
Review by Kasthu
16/06/2015
Set in the years after the Norman Conquest, The Winter Mantle begins with the Waltheof and Judith, one an English captive and the other a Norman and the niece of William of Normandy. They should hate each other, right? They marry for love (or lust), though not all is a bed of roses. The story continues on into the next generation with their daughter, Matilda, and Simon de Senlis, a young Norman knight.Chadwick's historical fiction is always top-notch. She really knows how to transport her readers back into another time, into the lives of people who jump off the page, even though they've been dead for hundreds of years. I love how she makes the reader become emotionally invested in her characters, even though you might not like them—Judith certainly isn't my favorite of Chadwick's heroines, but I really got involved in her story. According to Chadwick's note at the end, it's been popularly believed that Judith held some responsibility for betraying her husband to William, but the author handles this detail very well, I thought. And Waltheof is certainly no William Marshal, but I was sympathetic towards him, too.Another thing I love about this book is how well-researched it is. Chadwick probably spends more time and exerts more energy researching her settings and people than other authors do, and it certainly shows here. The Winter Mantle covers thirty years of history, but Chadwick doesn't skimp on anything to give her readers a sweeping novel about love, hope and faith. I have a copy of The Falcons of Montabard on my ever-growing TBR pile, and I have about a half dozen more EC books on order.
Review by Misfit
16/06/2015
The Winter Mantle begins in 1067 after The Conquest as Waltheof of Huntingdon and several other English nobles are kept under William's close eye in Normandy. Waltheof desires William's haughty niece Judith and is torn between making his peace with William and pressing suit for her hand or participating in further rebellion against the Norman conquerors. After one rebellion in the north fails, William forgives Waltheof and marries him to Judith, although she is torn between pride in her Norman ancestry and desire for her husband, and this eventually leads to discord in the marriage. Waltheof allows himself to be convinces to participate in one last attempt at overthrowing William, and this time with drastic results. The story then takes up with the second generation, Waltheof's beloved daughter Matilda and Norman courtier Simon de Senlis who at the behest of King William Rufus comes to take charge of the lands Judith inherited from Waltheof. Furious, the ever haughty Judith refuses to cooperate and wed Simon and he turns his eye to Matilda as a younger and more appealing choice. The story then continues as Matilda and Simon raise their children, and Judith finally comes to terms with her own guilt in Waltheof's fate and his death as a traitor, as well as the consequences to Simon and Judith's marriage from Simon's actions on his return from the Crusades. Based on true people, this was a lively entertaining tale and I very much enjoyed how the author was able to take such a snotty piece of goods like Judith and humanize her in the end - it really was a love/hate relationship between she and Waltheof and in many ways those two warring emotions are very much the same. As with all of her books, Chadwick has an amazing knack of bringing the medieval period to life, be it the sights, sounds, smells, food, clothing and more. Highly recommended and a side note that the tiny baby at the very end of the book has his own story in The Falcons of Montabard.