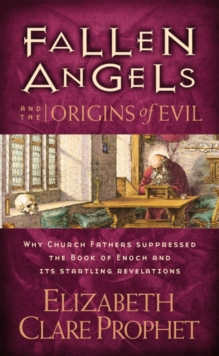 Fallen Angels and the Origins of Evil : Why Church Fathers Suppressed the Book of Enoch and Its Startling Revelations
Paperback
Description
Did rebel angels take on human bodies to fulfil their lust for the 'daughters of men'?
Did these fallen angels teach men to build weapons of war?
That is the thesis of the Book of Enoch, a text cherished by the Essenes, early Jews and Christians but later condemned by both rabbis and Church Fathers.
The book was denounced, banned, cursed and 'lost' for over a thousand years -- until in 1773, a Scottish explorer discovered three copies in Ethiopia.
Elizabeth Clare Prophet examines the controversy surrounding this book and sheds new light on Enoch's forbidden mysteries.
She demonstrates that Jesus and the apostles studied the book and tells why Church Fathers suppressed its teaching that angels could incarnate in human bodies.
Contains all the Enoch texts, including the Book of Enoch, and biblical parallels.
This book takes you back to the primordial drama of Good and Evil, when the first hint of corruption entered a pristine world -- Earth.
Information
Format: Paperback
Pages: 524 pages
Publisher: Summit Beacon International
Publication Date: 01/01/2000
ISBN: 9780922729432
Free Home Delivery
on all orders
Pick up orders
from local bookshops
Reviews
Showing 1 - 1 of 1 reviews.
Review by DubiousDisciple
16/06/2015
I bought this book just so that I would have a bound translation of the Book of Enoch, and wound up reading … well, most of it. The translation provided here is by Richard Laurence, LL. D. But there's much more in Prophet's book than this translation.Genesis chapter six tells how the sons of God (the Watchers) procreated with the daughters of men to create a race of giants known as the Nephilim. The Book of Enoch, much of which was written as early as the 3rd century BC, expands upon the story of the Watchers, and was well-read in the century of Christ. It seems to have been revered as scripture, quoted directly in the Bible. Rabbis and Christian Church fathers in later centuries, however, denounced the book and banned it.Prophet takes about eighty pages of her book to detail the "hidden references" in the Bible to the Watchers and the Book of Enoch, and this section alone is worth the price of the book. When researching for my book about Revelation, I became convinced that there was simply no way to understand what John was writing about without reading Enoch; it contained the source of many of the beliefs espoused by Revelation.So, let's talk about the origin of evil. Did rebel angels take on human bodies to fulfill their lust for the "daughters of men?" Did these fallen angels teach men to build weapons of war? Prophet takes Enoch quite seriously, and delves into other ancient literature as well as she details what we should know about embodied angels. In a chapter titled Spiritual Solutions, she teaches us to chart our "divine self." You get the idea; I'm afraid this isn't really my thing, so my rating of four stars is based upon the translation and research, not the evangelizing.
Also by Elizabeth Clare Prophet | View all