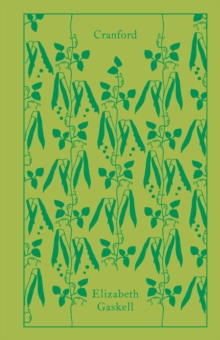 Description
Part of Penguin's beautiful hardback Clothbound Classics series, designed by the award-winning Coralie Bickford-Smith, these delectable and collectible editions are bound in high-quality colourful, tactile cloth with foil stamped into the design.
Gaskell's best known work is set in a small rural town, inhabited largely by women.
This is a community that runs on cooperation and gossip, at the very heart of which are the daughters of the former rector: Miss Deborah Jenkyns and her sister Miss Matty.
But domestic peace is constantly threatened in the form of financial disaster, imagined burglaries, tragic accidents, and the reapparance of long-lost relatives.
Information
Format: Hardback
Pages: 304 pages
Publisher: Penguin Books Ltd
Publication Date: 01/11/2008
Category: Historical fiction
ISBN: 9780141442549
Other Formats
Paperback from £2.99
CD-Audio from £15.99
Paperback / softback from £4.99
Hardback from £18.99
Free Home Delivery
on all orders
Pick up orders
from local bookshops
Reviews
Showing 1 - 3 of 3 reviews.
Review by bkmcneil
16/06/2015
Cranford details the tightly-drawn world of the upper-class citizens of a small English village. I definitely think E.F. Benson had the Cranford ladies in mind when he constructed his delightful societal struggles in the Mapp & Lucia books. Gaskell's world is set earlier and is necessarily gentler, but has a similar level of detail and observation. An enjoyable read, with subtle humor.
Review by bookworm12
16/06/2015
I didn't love Cranford at first. It felt trivial and slow. But half way through the book I realized that I loved these characters, our narrator Miss Smith, the gossipy Miss Pole and most of all, the gentle, trusting Miss Matty. The book is made up of 16 chapters; each chronicles a small event in the quiet English town of Cranford in the 1840s. The women in the town are a tight-knit group, skeptical of outsiders and protective of each other. There are many humorous sections with mistaken identities, misunderstandings and unneeded panic, but those aren't the sections that will stay with me in years to come. The chapter that finally hooked me was ch. 13 Stopped Payment. When a local bank has unexpected troubles we have a chance to see Miss Matty's goodness shine. She is so selfless in her concern for others that it broke my heart. Her sincere love for her friends and neighbors knows no bounds. When Miss Matty own finances seem dire, the dear ladies of Cranford come together to help her without her knowledge. That's the true heart of this sweet book, friendship that rises to the occasion, silently offering a shoulder to cry on or a hand to hold. To me, this quote from Miss Pole summed up how the women of Cranford see themselves ... "We, the ladies of Cranford, in my drawing-room assembled, can resolve upon something. I imagine we are none of us what may be called rich, though we all posses a genteel competency, sufficient for taste that are elegant and refined, and would not, if they could, be vulgarly ostentatious."
Review by thatotter
16/06/2015
I get the impression that <i>Cranford</i> is Gaskell's most beloved novel, but it's not my favorite. It's very charming and sweet, but I can't get over the sense of sadness and thwartedness that pervades.
Also by Elizabeth Cleghorn Gaskell | View all
Also in the Penguin Classics series | View all