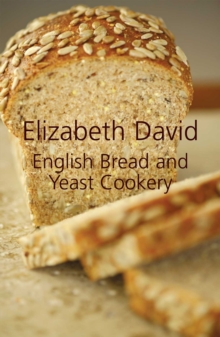 English Bread and Yeast Cookery
Hardback
Description
First published in 1977, and winning its author the coveted Glenfiddich Writer of the Year Award, this universally acclaimed book is regarded by many as simply the best book ever written about the making of bread.
It covers all aspects of flour-milling, yeast, bread ovens and the different types of bread and flour available.
It contains an exhaustive collection of recipes, everything from plain brown wholemeal or saffron cake to drop scones and croissants; all described with her typical elegance and unrivalled knowledge.
Even how to make your own yeast and keep it. But more than just a list of recipes, it is an insight into an interesting and informative home-baker.
Enquire within on any point connected with baking and Miss David has the answer.
Nor does it omit the history of bread making from the Exodus onwards, the iniquities of sliced bread and uncovers the dubious practices of some flour millers and bread manufacturers in the UK and elsewhere with amusing anecdotes and personal observations throughout.
The writing style of this book has aged well and adds greatly to its charm.
This is a book that should be included in every food lover's collection. Not just for those who love to cook but those who enjoy reading about food and its history, and of course it is an absolute must for keen bakers.
Free Home Delivery
on all orders
Pick up orders
from local bookshops
Reviews
Showing 1 - 1 of 1 reviews.
Review by tonysomerset
16/06/2015
Just finished the introductory two fifths lead in of this wonderful book. What a wealth of knowledge and historical information she shares with us. When you stop and think about, grain has always been vital to man's survival from the very first days that he gave up hunting and gathering, settled and became farmers. So grain, its grinding and turning the flour into edible nourishing food has been important daily concern for all our forebears. No wonder the Lords of the Manor took away our rights to grind our own grain and why the miller and their abuses became such a concern to the ordinary villager. She steps through all these important developments with a delightfully delicate tread, helping you to realise the importance of this our daily bread. Bye the way explaining the origins of our (previous) pence, shillings and pounds, all related to the number for grains! So it is again no wonder her contempt for the Chorleywood processed loaf we are dished out with at every 'bakery'. Our grain, our flour, our bread really does deserve much greater respect. She certainly helps us along the way, with her self-evident careful experimentation and recording of this method against that method.So to anyone who wants to understand about bread. This is a must of a read. To anyone who wants to try making real bread making and re-discovering what bread flavour, texture, crust and smell are actually about. This is a fine place to start. A thorough grounding in the essentials and the sweeping away of myths. Always with those amusing, fascinating aside quotes from past bread makers to reassure that it is not science, just a skill within all of our reach. So just maybe her bread recipes are not of the same order as those to be found in 'Bread Matters' but her book is the one I will turn to, to better understand when things go occasionally wrong. As they do.