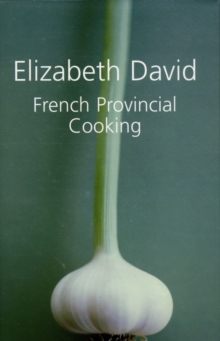 French Provincial Cooking
Hardback
Description
Elizabeth David's books belong in the libraries of everyone who loves to read and prepare food and this one is generally regarded as her best; her passion and knowledge comes through on every page.
She was one of the foremost writers on food in the latter half of the 20th century and this book has her most celebrated writing. "French Provincial Cooking" should be approached and read as a series of short stories, as well written and evocative as the best literature.
The voice is highly personal and opinionated, sometimes sharp but always true and always entertaining.
Here is a long essay on French cuisine, offering background stories and sketches of recipes more than the slavishly didactic type of recipes that most modern readers might be used to today.
For many Elizabeth David was the first to introduce us to the French notion of la cuisine terroir, sometimes interpreted as 'what grows together goes together'.
For David, this is the heart of regional cooking, and the thing which most distinguishes it from cooking in haute cuisine restaurants where diners arrive at any time or any season and expect to be able to order any well known French speciality. One of the passages which best characterizes David's approach to a lot of cooking is her opening statement on the perfect omelette: 'As everybody knows, there is only one infallible recipe for the perfect omelette: your own.' The book starts with a short essay on each of the major culinary regions of France, starting perhaps not surprisingly with Provence which is blessed an abundance of produce.
The largest portion of the book consists of chapters on cuisine by type of dish: Sauces, Hors-D'oeuvres and Salads, Soups, Eggs and Cheese, Pates and Terrines, Vegetables, Fish, Shellfish, Meat, Composite Meat Dishes, Poultry and Game, and Sweet dishes.
The book is all the more valuable in that it paints a picture of a cooking style which existed before modern equipment such as the food processor.
Most importantly, the recipes work if your aim is to produce the most excellent food imaginable.
What initially may seem to be annoying details (e.g., for omelettes, eggs 'should not really be beaten at all, but stirred,' whereas for scrambled eggs, they should be 'very well beaten') are actually secrets to be treasured, that elevate a good dish to a superb one. The lesson is that good food should be done simply, but it takes care, attention to detail, and frequently, time.
A hardback edition of "French Provincial Cooking" has been unavailable for many years and Grub Street is re-issuing it because of overwhelming demand.
It should become as popular an edition as the best-selling "Elizabeth David Classics".
Information
Format: Hardback
Pages: 528 pages, line drawings
Publisher: Grub Street
Publication Date: 30/04/2007
Category: General cookery & recipes
ISBN: 9781904943716
Other Formats
Paperback from £10.19
EPUB from £7.99
Free Home Delivery
on all orders
Pick up orders
from local bookshops
Reviews
Showing 1 - 2 of 2 reviews.
Review by prps
16/06/2015
Really liked the cultural references in the book and how Elizabeth David writes. I must confess that I skimmed through the recipes though.
Review by kraaivrouw
16/06/2015
I grew up reading through cookbooks as if they were novels. I spent a lot of time in my Seattle grandmother's kitchen, or my family's kitchen, sitting on the floor and reading cookbooks and looking at pictures (when I wasn't doing sous chef duties). Cooking or baking occurred throughout these times, as did conversation on many topics, but the cookbook in my lap always had a lot of my attention. I still read them like novels.I learned to cook and bake through osmosis - watching and helping and eating and talking about all kinds of good food, what made it good, and why certain choices were made. Once I was on my own I really started cooking. My primary tools were The Joy of Cooking and L'Escoffier along with others that I picked up on my own.Still I often think of Elizabeth David, especially reading A Taste of the Sun on a rainy winter evening, or even a bright summer day. She's up there with Julia Child and James Beard as my favorite writers of what we call food porn in my family. There's something so lovely and conversational about Ms. David, always writing in clear precise prose with sketches of recipes rather than the precise lists that we're used to - Ingredients/Serves/Recipe. I realized when reading this book again that that's the way recipes are shared over the table. "How'd you make that?" "Oh, I took the chicken and did this with it with these herbs and oils and cooking techniqued it for however long." My father and grandmother were very fond of this kind of recipe exchange and for a long time I had sketches like this on the back of envelopes or on notebook pages or whatever else came to hand - these lay around in various places until I wanted them. Once I committed them to memory (by cooking them over and over again) they went the way of all things on the backs of envelopes.If you haven't read David, you must. She's probably more familiar in England than here (although that may have changed). Her style is anecdotal, but exacting - full of details that may seem picky, but that prove their worth when you use them. Honestly, I think Nigella Lawson wishes she was Elizabeth David - not to criticize Lawson, but David is obviously the template for much of what she does.What a wonderful read and a great book for building technique and ideas. One word about format - I bought this for my Kindle for the ease of novel reading, but may buy a printed copy depending on how well cooking from this goes. I'm not sure the e-book format has the right feel for cookbooks which should be hefty, well-used, and covered in places with sauce stains.