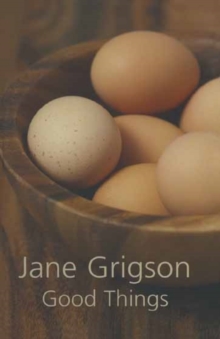 Description
The reason for reissuing this book is because it is Jane Grigson's celebration of the seasons and the foods they bring and seasonality is now the top priority of all those who take their eating and cooking seriously.
She says in the Introduction to the original edition published in 1971, " I feel that delight lies in the seasons and what they bring us the strawberries that come in May and June straight from the fields, the asparagus of a special occasion, kippers from Craster in July and August, the first lamb of the year from Wales, in October the freshest walnuts from France where they are eaten with new cloudy wine.
This is good food ..The encouragement of fine food is not greed or gourmandise; it can be seen as an aspect of the anti-pollution movement in that it indicates concern for the quality of environment.
This is not the limited concern of a few cranks. Small and medium-sized firms, feeling unable to compete with the cheap products of the giants, turn to producing better food .People in many parts of the country run restaurants specializing in locally produced food, salmon from the Tamar, laver and sewin from the Welsh sea, snails from the Mendips, venison from the moors of Inverness.
I notice in the grocers' shops in our small town the prominence given to eggs direct from the farm." How prophetic she was when she pointed out to us the importance of locally-produced, fresh food and she wrote those words 35 years ago!
The book is divided into sections covering Fish kippers, lobster, mussels and scallops, trout; Meat and Game meat pies, salting meat, snails, sweetbreads, rabbit and hare, pigeon, venison; Vegetables asparagus, carrots, celery, chicory, haricot beans, leeks, mushrooms, parsley, parsnips, peas, spinach, tomatoes; Fruit apple and quince, gooseberries, lemons, prunes, strawberries, walnuts. And importantly the book contains the recipe for her famous curried parsnip soup.
Information
Format: Hardback
Pages: 326 pages
Publisher: Grub Street
Publication Date: 15/06/2007
Category: General cookery & recipes
ISBN: 9781904943877
Free Home Delivery
on all orders
Pick up orders
from local bookshops