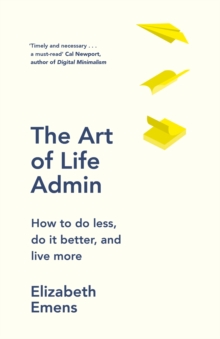 The Art of Life Admin : How To Do Less, Do It Better, and Live More
Hardback
Description
This book will give you many hours of your life back. 'Timely and necessary . . . a must-read' Cal Newport, author of Digital MinimalismEvery day, an unseen form of labour creeps into our lives, stealing precious moments of free time, placing a strain on our schedules and relationships, and earning neither appreciation nor compensation in return.
Scheduling doctor's appointments. Planning a party. Buying a present. Filling out paperwork. This labour is 'life admin' - the kind of secretarial and managerial work necessary to run a life and a household. Elizabeth Emens was a working mother with two young children, swamped like so many of us, when she realised that life admin was consuming her.
Desperate to survive and to help others along the way, she gathered favourite tips and tricks, admin confessions, and the secrets of admin-happy households. Drawing on her research and writing in a wholly original manner, Emens shows how this form of labour is created and how it affects our lives; how we might reduce, redistribute and even prevent it; what 'admin personalities' we might have; and how to deal with admin in relationships. The Art of Life Admin is the book that will teach us all how to do less of it, and to do it better. ***'This practical proven book shows you how to immediately take control of your life, clarify your goals and concentrate on the most valuable use of your time every minute'Brian Tracy, author of Eat that Frog'Ms Emens' tips for working through admin knots have given me lots of ideas, especially for clearing the "murky admin" that has been on my list for too long . . . I'm also making another list - fun things to do with all the time I've saved'Claer Barrett, Financial Times'Emens maps the political, psychological and practical landscape of "admin hell" with humour and hopefulness.
This intelligent, witty book will shed new light on everyone's to-do list'Dr Clare Carlisle Tresch, King's College London***From Ideas to Try:1) Find ways to make things end.
For instance, try writing No Need to Reply (NNR) on texts and emails.
Save others time; they might even return the favour. 2) Start bypassing the to-do list when you face real-time admin requests.
Email someone the information she wants while she's still standing there - so it never goes on your to-do list. 3) Spend your Admin Savings Time well. If you save yourself an hour, spend that hour doing something you really want - or need - for yourself.
Information
Format: Hardback
Pages: 288 pages
Publisher: Penguin Books Ltd
Publication Date: 03/01/2019
Category: Business strategy
ISBN: 9780241972496
Save 23%
Free Home Delivery
on all orders
Pick up orders
from local bookshops