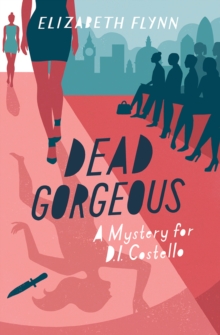 Dead Gorgeous : A Mystery for D.I. Costello
Paperback
Description
Kirsty Manners is young, beautiful, and ambitious. And dead. Kirsty was trying to make it in the fashion world. As the in-house model for Ivano King and having dated the great designer himself, she believed she was well on her way. But Kirsty is found dead in her flat one Sunday afternoon, and D.I.
Angela Costello is called to the scene. Kirsty has left behind a lovesick ex-boyfriend and a jealous flatmate. And what about King's new girlfriend, who openly admits she has a reason to wish Kirsty dead? Behind the flawless make-up and gleaming catwalks, Angela's enquiries uncover theft, drug addiction, prostitution - and suddenly her own life could be in danger...
Information
Format: Paperback
Pages: 288 pages
Publisher: Lion Hudson Plc
Publication Date: 17/10/2014
Category: Crime & mystery
ISBN: 9781782641315
Free Home Delivery
on all orders
Pick up orders
from local bookshops
Reviews
Showing 1 - 5 of 10 reviews.
Previous | Next
Review by CathyShelton
16/06/2015
An interesting murder mystery that gives insights into the cut throat world of fashion and fashion design. There are many twists and turns in this book with some alibis not being what they seen and relationships that change frequently and are hidden from others. Very English in nature and the saying and adages take some gettng used to.
Review by bah195
16/06/2015
"Kirsty was trying to make it in the fashion world. As the in-house model for Ivano King and having dated the great designer himself, she believed she was well on her way. But Kirsty is found dead in her flat and it is up to D.I .Angela Costello to find the killer." I had a hard time getting into this book but once I got the rhythm I was hooked. This was book two in this series and I plan on reading the first one,
Review by peggy.short
16/06/2015
I began this book ready to dislike it. After all, I felt the cover and title were a bit trite. Since I had won the book from LibraryThing on the condition I read it and give an honest review, I did make myself start it. What I have discovered is anything but trite! This is a well-written, old-fashioned murder mystery! Ms. Flynn does a wonderful job of drawing the reader into the current case of D.I. Costello. There are several different threads (pardon the pun on the garment industry!) that drew me in – and kept me busy trying to figure out how it all went together.The mystery starts when a young employee of a fashion designer in London is found murdered. Unfortunately, the woman is not extremely likable – and the list of suspects grows fairly long. We follow D. I. Costello as she unravels the clues to figure out "who dun it." Could it be her flatmate – or her boss (with whom she had been having an affair) – or her body-builder boyfriend - or is it someone else? As we are drawn into the mystery of her death, we are also introduced to another mystery – Costello's priest has been approached for help by a young woman in distress. He feels she is in serious trouble, so comes to his friend (Costello) for aid. Could these two, seemingly unrelated problems really be connected?This book is a great read – with likable characters and a plausible plot. It has a well-developed mystery – with no graphic violence, sex, or bad language. It definitely held my interest right to the end. Even though it is the second in a series, I did not feel that I needed to read the first to understand this one (I have not read the first). I can't wait to read others in the series!
Review by ecataldi
16/06/2015
I hadn't read a good old fashioned murder mystery in a while and this certainly whet my appetite. Elizabeth Flynn creates an absorbing read with a likable cast of characters, especially the lead, Detective Inspector Angela Costello. She's a detective with heart, not some jaded PI like we're so often used to. She's methodical, jovial, and hard as tacks; she knows how to get the job done but she doesn't lose herself in the process. When young aspiring model, Kristy Manners, is found dead Angela finds herself sucked into the world of fashion. She has to sort out Kristy's fashion designer boss, the jealous ex-boyfriend, the secretive flatmate, and other likely suspects. It's not so easily solved though, and in the process of trying to sort out the murder of beautiful, ambitious Kristy, Angela discovers that lurking behind the fashion industry's door is prostitution, drug addiction, and theft. A page turner that will leave you guessing til the end. I received this book for free from Kregel Publications in return for my honest, unbiased opinion.
Review by bbofje
16/06/2015
I received Dead Gorgeous by Elizabeth Flynn as part of TheLibraryThing Early Reviews give away. The setting was London's fashion industry. A fast paced murder mystery with just the right amount of story lines. I plan to find the author's first book, Game, Set and Murder to read also.
Also in the A Mystery for D.I. Costello series | View all