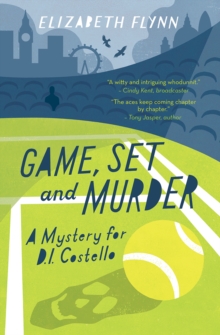 Game, Set and Murder : A Mystery for D.I. Costello
Paperback
Description
It's the first day of Wimbledon. And a dead body is lying on Court 19. Newly-promoted detective inspector Angela Costello recognizes the dead man as Croatian champion-turned-coach, Petar Belic.
A double grand-slam winner, Petar was famous, and much loved.
However, Petar had an ex-wife who wanted him back; a girlfriend who wouldn't let him go; a business partner with secrets.
Then there was the temperamental leading Brit, Stewart Bickerstaff, whom Petar had been coaching. D.I. Costello deduces that only one person could have committed the crime.
Unfortunately she has no way of proving her suspicions...
Information
Format: Paperback
Pages: 272 pages
Publisher: Lion Hudson Plc
Publication Date: 18/10/2013
Category: Crime & mystery
ISBN: 9781782640721
Free Home Delivery
on all orders
Pick up orders
from local bookshops
Reviews
Showing 1 - 5 of 8 reviews.
Previous | Next
Review by thornton37814
16/06/2015
In this promising debut, Detective Inspector Angela Costello investigates the death of star tennis player Petar Belic whose corpse is found on court 19 at Wimbledon just before the event begins. There are plenty of suspects to go around with varying motives. Having been a tennis fan for years, I loved the setting. I liked our newly minted Detective Inspector and the ease with which she assumed her new role in her first investigation. I loved the ending which I thought was quite a change from many mysteries and actually follows a conclusion that would probably happen from time to time in real police procedurals. I'm looking forward to additional installments in this series. This review is based on an advance e-galley received by the publisher through NetGalley.
Review by LeHack
16/06/2015
This is a first novel for Elizabeth Flynn. The murder is set among the tennis world at Wimbledon where a former tennis star is found dead on on one of the courts. She takes us among the relationships among competitors, agents, and coaches. The investigator in charge is DI Angela Costello, recently promoted, and feeling her way in this new position during a high profile investigation. Fortunately, she has a superior who has her back and her team respects her. Flynn has laid out the clues and developed the main characters in a way that you are able to follow along and enjoy the story as the investigation reveals the murderer.An excellent first novel. I am sure we will see future mysteries featuring DI Costello.
Review by Squeex
16/06/2015
I really enjoyed this English suspense. Mainly due to the main character, Angela Costello, newly promoted Detective Inspector. The mystery is finely done, but I liked the character development and the hiccups along the investigation. There are truculent coworkers, snotty suspects, false leads. It's more along the lines of how I think an investigation would work. Angela handles it pretty well. She has a great sense of humor and a good head on her shoulders. She's married to a pretty nifty guy who helps guide her without being bossy. I sort of had the whodunit figured out, but only sort of. And I really enjoyed the story along the way. I really hope there will be more from this author and this series. I look forward to watching Angela shine again.
Review by 4leschats
16/06/2015
The general plotline of a murder at Wimbledon was a typical cozy mystery setup. Also, the heroine, Angela Costello had some strong aspects. However, this book suffers (as do many from smaller presses) from a need for editing. The dialogue was often stilted, the italicize internal dialogue became downright annoying at times. Also, while one would expect some details relating to tennis, at times the tennis seemed more important than the story. Paring some of the nonessential scenes and refining the dialogue would have allowed a good, standard genre story shine.
Review by AleFrisch17
16/06/2015
For starters, I'm not much a fan of the murder mystery/detective novel genre. Secondly, the title. There are three other books with essentially the same title written in the last 4 years (although, to be fair, one was a historical account of a murder from the early 20th century involving a tennis player).The book itself wasn't that bad. It was a quick read. Not super interesting but not boring either. My only gripes: Costello's relationship with her husband and the dialogue between the two seemed cheesy; Flynn makes Costello some super detective able to read every emotion and nuance in the suspect's eyes or face and that got annoying.