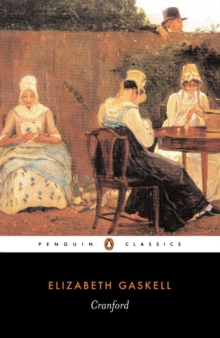 Description
From the author of North and South and Mary Barton, Elizabeth Gaskell's Cranford is a standalone publication of Elizabeth Gaskell's best-known work, with a critical introduction by Patricia Ingham in Penguin Classics.Cranford depicts the lives and preoccupations of the inhabitants of a small village - their petty snobberies, appetite for gossip, and loyal support for each other in times of need This is a community that runs on cooperation and gossip, at the very heart of which are the daughters of the former rector: Miss Deborah Jenkyns and her sister Miss Matty, But domestic peace is constantly threatened in the form of financial disaster, imagined burglaries, tragic accidents, and the reapparance of long-lost relatives. to Lady Glenmire, who shocks everyone by marrying the doctor.
When men do appear, such as 'modern' Captain Brown or Matty's suitor from the past, they bring disruption and excitement to the everyday life of Cranford.In her introduction, Patricia Ingham places the novel in its literary and historical context, and discusses the theme of female friendship and Gaskell's narrative technique.
This edition also contains an account of Gaskell's childhood in Knutsford, on which Cranford is based, appendices on fashion and domestic duties supplemented by illustrations, a chronology of Gaskell's life and works, suggestions for further reading, and explanatory notes.Elizabeth Gaskell (1810-65) was born in London, but grew up in the north of England in the village of Knutsford.
In 1832 she married the Reverend William Gaskell and had four daughters, and one son who died in infancy.
Her first novel, Mary Barton, was published in 1848, winning the attention of Charles Dickens, and most of her later work was published in his journals.
She was also a lifelong friend of Charlotte Bronte, whose biography she wrote.If you enjoyed Cranford, you may like Jane Austen's Mansfield Park, also available in Penguin Classics.
Information
Format: Paperback
Pages: 304 pages
Publisher: Penguin Books Ltd
Publication Date: 30/06/2005
Category: Historical fiction
ISBN: 9780141439884
Other Formats
Paperback from £2.50
Hardback from £11.25
EPUB from £0.99
PDF from £1.29
eAudiobook MP3 from £14.24
Free Home Delivery
on all orders
Pick up orders
from local bookshops
Reviews
Showing 1 - 5 of 10 reviews.
Previous | Next
Review by knittingfreak
16/06/2015
"In the first place, Cranford is in possession of the Amazons; all the holders of houses above a certain rent are women.I love the first line of this book. The reader knows from the beginning that this is going to be a fun book. Elizabeth Gaskell doesn't disappoint. There are some men in the story, but they remain on the sidelines. They are not essential to the story. In fact, that's quite the premise of the book -- men aren't necessary. Considering that Gaskell wrote this book in the early 1850s, this is quite shocking. During her day, women were expected to be dependent upon men for everything. So, Gaskell does something quite out of character within the Victorian period by fleshing out these eccentric women who are quite independent. The book was first written and published in installments in Charles Dickens' Household Words beginning in December 1851. The book is written as a series of vignettes as we follow the women throughout their lives. There really is not much of a plot, but rather brief glimpses into the lives of these women.The women all abide by a very strict code of propriety. For example, visiting hours are strictly kept to after twelve noon. It would be unheard of to come to a neighbor's home before this time. The women also practice what is called "elegant economy." They feel it vulgar to discuss money, and everyone pretends that they have more than they do. For instance, they pretend that they walk instead of getting a buggy because it's a beautiful night -- not because it's expensive. They want to keep at bay any appearance of impropriety, which also extends to their household help. The maids are forbidden to have "followers" or boyfriends. One exception to this is later in the book when Miss Matty is older and her sister has died. She allows her maid Martha to have a follower, although it still bothers her. It's as if these women are holding out against the changing times. But, eventually they begin to see that change comes to all of us no matter how hard we try to hold it at bay. This is a delightful little book. The women are eccentric, kind, funny, strong and yet vulnerable. I highly recommend this one.
Review by ReadingKnitter01
16/06/2015
Elizabeth Gaskell is not Jane Austen. That being said, it was entertaining ut noth something I will read or watch again. I do like Judy Dench in this role.
Review by littlebookworm
16/06/2015
Cranford is a story that is hard to describe. The little town of Cranford is populated mainly by older women, mostly single or widowed. There are a few men about, but they are largely of a lower class, whereas many of the women consider themselves of gentle birth and do their best to act accordingly, especially Mrs. Jamieson, the town's matriarch. The book revolves around Mary Smith, a frequent visitor to Cranford who often stays with the Jenkyns sisters, two unmarried older women who enjoy some status as children of the late rector. Most of the chapters, however, center in on Miss Matty, the younger of the sisters, whose gentle heart endears her to the entire town.This was not at all what I'd expected from it, and not in a bad way at all. My previous experiences with Gaskell consisted of North and South and Mary Barton, which are both very concerned with the rise of industrialism in the north. Cranford is much more a picture of genteel life as it might have been during Gaskell's lifetime, in a small town where women rule all. Each of the women is made distinct by her own actions as they socialize, like Mrs. Jamieson who is a complete snob, the elder Miss Jenkyns whose sternness overrides any other aspects of her personality, and Miss Matty, a sweet woman who is too easily led by everyone around her.There is no real plot here. The chapters can almost be seen as a series of little stories regarding the inhabitants of Cranford, tied together by Miss Matty's presence. There is a general movement towards what happens at the end but it isn't compelling reading; this is a book to live in, to get to know the characters, to begin to care about what happens to them. It's short, but it accomplishes these goals with ease and opens a window into life as it was. I was reminded mainly of a more sedate Jane Austen, less concerned with irony and overall plot but still depicting a genuine picture of an upper class society and its ills. She does still use humor to depict the ridiculousness of their situations; my favorite is when one of characters is complimented on her lace and launches into a story of how it had a little trip through her cat's digestive system! I liked the book and I was completely charmed by it, but this isn't a book for the impatient among us.Cranford reminded me of how much I adore nineteenth century literature. There is something so inherently appealing in Gaskell's style, in the modest but earnest ways of her characters, and in the quiet community life that they all share. I can't say this is a world I'd ever want to live in, but I definitely loved visiting.
Review by booksandwine
16/06/2015
I suppose you probably want to know what exactly Cranford is about, eh? Well, there isn't really an overarching plot, rather, this is a series of connected, gentle vignettes about spinster ladies. I am pretty sure Cranford is to the 19th Century what Golden Girls are to my generation. It's geriatric girl power. The only real difference is Cranford's Blanche is a whole lot more chaste, her name is Miss Matilda, Mattie for short. She doesn't actually hook up with anyone, but has a run-in with an old suitor, therefore she gets to be Blanche.The ladies of Cranford are all genteel, and super fab friends. They respect economy and look down on people who are flashy with their wealth. They socialize, deal with deaths, gossip, and write letters. Oh and hang out at tea. I thought the cast of characters I have met so far all seem to be interesting and well-developed. You get to know certain quirks, which makes them feel like people I may know in real life. For example, there is one scene where the lady feeds her dog, Carlos cream in his tea instead of milk, because he can tell the difference, yet she gives her guests milk in their tea instead of precious cream. I definitely know people who treat their dogs like that.And I guess, I will conclude my impressions of the first half of this book saying I enjoy reading about elderly, sassy ladies. Gaskell has a very easy going style in Cranford that makes it wonderful, before bed sort of read.
Review by SLamkin
16/06/2015
Funny and just plane woderful. This is a classic in its own right. Elizabeth Gaskell was able to capture small town life from her time in a way that transcends time.
Also in the Penguin Clothbound Classics series | View all