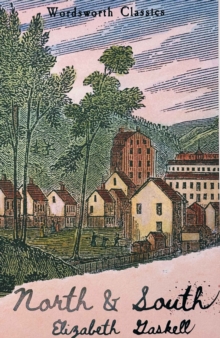 North and South
Paperback
Description
With an Introduction and Notes by Dr Patsy Stoneman, University of Hull. Set in the mid-19th century, and written from the author's first-hand experience, North and South follows the story of the heroine's movement from the tranquil but moribund ways of southern England to the vital but turbulent north.
Elizabeth Gaskell's skilful narrative uses an unusual love story to show how personal and public lives were woven together in a newly industrial society. This is a tale of hard-won triumphs - of rational thought over prejudice and of humane care over blind deference to the market.
Readers in the twenty-first century will find themselves absorbed as this Victorian novel traces the origins of problems and possibilities which are still challenging a hundred and fifty years later: the complex relationships, public and private, between men and women of different classes.
Information
Format: Paperback
Pages: 448 pages
Publisher: Wordsworth Editions Ltd
Publication Date: 05/04/1993
Category: Classic fiction (pre c 1945)
ISBN: 9781853260933
Other Formats
Paperback from £2.50
Hardback from £8.89
EPUB from £0.99
eAudiobook MP3 from £8.00
Free Home Delivery
on all orders
Pick up orders
from local bookshops
Reviews
Showing 1 - 5 of 5 reviews.
Review by mrsgaskell
16/06/2015
A very satisfying novel. The heroine's father is an English vicar who gives up his living because of religious doubts and moves his family north to a fictionalized version of Manchester at the time of the industrial revolution. The relationship between the heroine and a prosperous mill owner reminded me of Pride and Prejudice.
Review by Cariola
16/06/2015
It's by Elizabeth Gaskell--what more needs to be said? Wonderfully drawn characters engaged in conflicts with social expectations, between their beliefs and desires, and with each other; a fascinating depiction of Victorian society; a believable love story. One of Gaskell's bests. Highly recommended.
Review by phoebesmum
16/06/2015
I felt it incumbent on me to read a classic for once in my life. What I'd forgotten is that I had already read this particular classic. In fact, I had forgotten the whole thing – nutty father, horrible dark, Satanic mill town, astonishing death count and all. Slow-paced, dreary and heavy going ... I am never going to be an intellectual, am I?
Review by veevoxvoom
16/06/2015
Summary: Margaret is a vicar's daughter who has grown up in the south of England, in sunny days and slow hours. However, when her father relocates their family to Milton, an industrial town in the north. Margaret faces culture shock moving from the south to the north, but also finds an unusual romance.Review: I've seen the mini-series and enjoyed it greatly, so when I saw a copy of the original book (in an English bookstore in China, no less!), I grabbed it up. My initial reaction to the book was "this is like Pride and Prejudice except with class issues." But that's not fair to North and South, which is an excellent book in its own right. Yes, there are similarities to Austen. Headstrong young woman meets standoffish man, he proposes to her, she rejects him, but then she learns to see his true worth.But there are class issues in Gaskell that are mostly absent in Austen, and this makes North and South its own type of story. In Austen, the characters' problems revolve around marriage and society, but in Gaskell they face additional events such as illness, arrests, workers' strikes, and poverty. The scope of events is deeper and more meaningful, and although I am not sure she succeeds to the degree that she would want, Gaskell at least addresses the disparity of life between the south and north, and the injustices that are a part of every character's life. There is a real sense of world weariness in the writing that suits the plot.Margaret is not that compelling of a protagonist, unfortunately. She sort of floats along from one scene to another, and the constant descriptions of her beauty grated on my nerves. But Mr. Thornton, ah, he could give Mr. Darcy a run for his money. Mr. Thornton, who rose from poverty to become a manufacturer, who is powerful and intelligent but self-conscious about his lack of genteel breeding — Mr. Thornton, in short, is awesome. He made the book for me.Conclusion: Yes, it will invite inevitable comparisons to Pride and Prejudice. But it is its own book too with a more critical and nuanced look at class and injustice in 1800s England.
Review by Eamonn12
16/06/2015
This book is a great read, thus fulfilling the most important aspect of any novel. The heroine is beautiful and intelligent, the hero handsome and serious-minded, their first meeting unpropitious. She thinks he is rather beneath her. He thinks she is affected and a snob. Things don't improve any time soon… Jane Austin? No. Elizabeth Gaskell.Mr Thornton (our hero) is the crie de coeur of Victorian moralists (and moralistic novelists) whose remedy for industrial strife and the alleviation of the terrible living and working conditions of many people was a 'change of heart' on the part of the factory owners. If they would see their workers as more than just mere 'hands' or items of labour expenditure, then they would treat them properly, with dignity, pay them well & etc. Thornton starts off as a fairly typical factory owner whose only interest in his workers is that of their being the material by which he can make profit. His view changes as the book progresses and I do not want to spoil the story by saying any more.Margaret (our heroine) is given fairly strong characterisation and her hot temper and straightforward honesty are well drawn and save her from becoming just another beautiful heroine caught in a dreadful situation. She is a genuinely interesting character, realistically drawn. And here I have to say that, even though I am a dyed-in-the wool Dickens enthusiast, Elizabeth Gaskell has created a female character much in advance of The Master. His heroines are, for the most part, simply insufferable whiter-than-white, or blacker-than-black-but-white-underneath-it-all cardboard cut-outs. There are some marvellous creations of course, such as Miss Havisham, but they are very often so weird that she cannot possibly be seen as fully human.North and South is a novel of the Two Englands, the pastoral, refined south, and the industrial, coarse north. The contrast between the two is well drawn, somewhat exaggerated, but exaggerated for the purpose of driving home how much a class difference there was between the peoples of either area. You really do feel the difference when the chapters bring you from one part (the rural) to the other (the built-up city). This is a novel attempting to come to terms with the Great Divide and to offer a way forward for the betterment of the working classes, but without revolution.To say that many of the issues raised in this book in the area of 'industrial relations' are still relevant today is to say no more than that there are certain issues in 'industrial relations' which are perennial and long-lasting. One does not have to be a Marxist to know that an employer's aim is to make profits and that this is done by keeping costs down as much as possible and with little regard (if any) for workers. ('A company's first duty is towards its shareholders') And it is also true, everlastingly it seems, that a prolonged workers' strike will usually turn into a vicious internecine row between those who weaken and those who resolve to keep it going. These, and so many other thorny aspects of industrial life are at the core of this book. The 'solution' offered by Gaskelll (and also by Dickens) of a 'change of heart' by the bosses is of course wildly naïve. But short of preaching revolution, what other option was at hand? Even today with our complex industrial-relations machinery for settling disputes, our 'welfare state', and our more enlightened attitude towards workers' rights', we still have our ugly confrontations. It says something about Gaskell's awareness of her age that these issues intrude into what could have been just another Jane Austin heroine landing a good catch. Well, OK. There is a little of the Jane Austins about this novel. But there's a lot of the Stan Barstows too. A true classic and has lost little, if anything, of its relevance to our humankind in the 145 years that have passed since it was written.
Also in the Wordsworth Classics series | View all