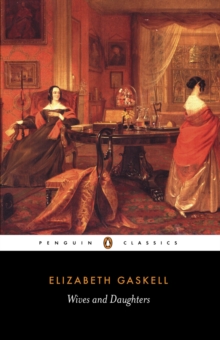 Wives and Daughters
Paperback
Description
Elizabeth Gaskell's Wives and Daughters is a story of romance, scandal and intrigue within the confines of a watchful, gossiping English village during the early nineteenth century.
This Penguin Classics edition is edited with an introduction and notes by Pam Morris.When seventeen-year-old Molly Gibson's widowed father remarries, her life is turned upside down by the arrival of her vain, manipulative stepfather.
She also acquires an intriguing new stepsister, Cynthia, glamorous, sophisticated and irresistible to every man she meets.
The two girls begin to confide in one another and Molly soon finds herself a go-between in Cynthia's love affairs - but in doing so risks losing both her own reputation and the man she secretly loves.
Set in English society before the 1832 Reform Bill, Elizabeth Gaskell's last novel - considered to be her finest - demonstrates an intelligent and compassionate understanding of human relationships, and offers a witty, ironic critique of mid-Victorian society.This text is based on the 1866 Cornhill Magazine version of the novel.
It also includes notes on textual variants between this edition and the original manuscript, a note on the story's ending and an introduction discussing the novel's challenging investigation of themes of Englishness, Darwinism and masculine authority.Elizabeth Gaskell (1810-65) was born in London, but grew up in the north of England in the village of Knutsford.
In 1832 she married the Reverend William Gaskell and had four daughters, and one son who died in infancy.
Her first novel, Mary Barton, was published in 1848, winning the attention of Charles Dickens, and most of her later work was published in his journals, including Cranford (1853), serialised in Dickens's Household Words.
She was also a lifelong friend of Charlotte Bronte, whose biography she wrote.If you enjoyed Wives and Daughters, you might like Thomas Hardy's The Return of the Native, also available in Penguin Classics.'No nineteenth-century novel contains a more devastating rejection than this of the Victorian male assumption of moral authority'Pam Morris
Information
Format: Paperback
Pages: 720 pages
Publisher: Penguin Books Ltd
Publication Date: 30/05/1996
Category: Classic fiction (pre c 1945)
ISBN: 9780140434781
Other Formats
Paperback from £2.50
eAudiobook MP3 from £6.89
EPUB from £1.07
Free Home Delivery
on all orders
Pick up orders
from local bookshops
Reviews
Showing 1 - 5 of 5 reviews.
Review by runaway84
16/06/2015
I can't remember the last time I read a more perfect book. The book itself has but one flaw, though, it is INCOMPLETE. I knew this when I started, but I was still not prepared for it to end.Elizabeth Gaskell is a genius at making a town and its inhabitants come to life. From the vain, intolerable Mrs. Gibson to the flaky Cynthia to the mischievous and witty lady Harriet to the kindhearted Molly, the characterization is impeccable.I can't see how I went so long into my life without the wit of Elizabeth Gaskell. Thank goodness there is much more of her work to read.
Review by mamalaoshi
16/06/2015
I love how the characters are so complete. They are imperfect in a natural and non annoying way.I found myself reading bits to my husband, surprised at how her portrayal of human nature is still relevant today.<br/>It was a positive and uplifting book except getting all the way to the end and being so surprised at the abrupt ending. I was so startled I immediately googled the book to find out what happened. Turns out Mrs Gaskell died before finishing the book but left notes about the remainder of the story. My edition was completed by another author the publishing company hired. It was funny finding that out because I remember getting to a point near the end and thinking this sounds like a completely different writer.
Review by jmoncton
16/06/2015
This is the 3rd Gaskell book I've read and I enjoyed as much as the others. However, when I started it, I had no idea that it was her final book and she died before she finished it. The version I listened to had a final summary from her notes of what was intended, but it was sad to not hear it in her own words. One thing I enjoy about her books is that her characters are so believably real. They don't fall completely into the hero or the villain category. Even the mean stepmother of this story is not really 'evil'. She is self-absorbed and thinks way too highly of herself, but somehow, Gaskell still gives her enough redeeming characteristics that it is hard to completely dislike her. A fun and gentle book that shows the good in human nature.
Review by alsocass
16/06/2015
The movie is so much better. <br/><br/>The younger brother is such an undeserving hero (as written in the book). The older brother is written as such a selfish man. The ending in the book was horrible. All in all Elizabeth Gaskell has some great plots (I love the movie versions of both W&amp;Ds and N&amp;S) but is terrible at writing the actual story. Her characters are always so unlikeable and she has no skill at resolving a romance.
Review by heidip
16/06/2015
Well, well, well. I've added Elizabeth Gaskell to the list as one of my favorite authors. This is the first book I've read by her, and I would highly recommend it. Her other books are going on my To Be Read List immediately.Wives and Daughters tells the quaint story of a widower who decides that since his daughter, Molly, is growing into a young lady, she needs a mother. He marries widow Hyacinth Clare who has a daughter of her own. That's where things get messy. This is the story of the two families melding together....sort of. There's very rich characterization in this novel. The new mother is distasteful, but not hated. The step-sisters get along great. All the characters have warts, some more than others. I won't tell more of the plot because you must read it.The author died before she finished the novel. But at 800 pages, she was nearly finished, and you really do know how the story ends. She characterizes small town England in the early 1800's, and in this sweeping saga, we have the pleasure of meeting lords and ladies, town gossips, the tenant farmers, the town doctor and his apprentices, and of course our dear Molly."It will be very dull when I shall have killed myself, as it were, and live only in trying to do, and to be as other people like. I don't see any end to it. I might as well never have lived.""I should hate to be managed," said Molly, indignantly. "I'll try and do what she wishes for papa's sake, if she'll only tell me outright; but I should dislike to be trapped into anything."