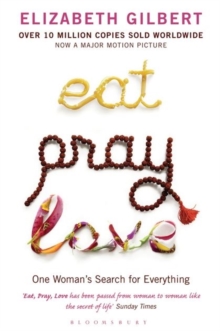 Eat, Pray, Love : One Woman's Search for Everything
Paperback
Description
It's 3 a.m. and Elizabeth Gilbert is sobbing on the bathroom floor.
She's in her thirties, she has a husband, a house, they're trying for a baby - and she doesn't want any of it.
A bitter divorce and a turbulent love affair later, she emerges battered and bewildered and realises it is time to pursue her own journey in search of three things she has been missing: pleasure, devotion and balance.
So she travels to Rome, where she learns Italian from handsome, brown-eyed identical twins and gains twenty-five pounds, an ashram in India, where she finds that enlightenment entails getting up in the middle of the night to scrub the temple floor, and Bali where a toothless medicine man of indeterminate age offers her a new path to peace: simply sit still and smile. And slowly happiness begins to creep up on her.
Information
Format: Paperback
Pages: 384 pages
Publisher: Bloomsbury Publishing PLC
Publication Date: 05/03/2007
Category: Autobiography: general
ISBN: 9780747585664
Other Formats
EPUB from £7.19
CD-Audio from £13.29
Paperback from £7.69
Free Home Delivery
on all orders
Pick up orders
from local bookshops
Reviews
Showing 1 - 5 of 5 reviews.
Review by cotto
16/06/2015
I absolutely adored the first section of this book which was of her travels through Italy (mostly Rome). Of course, I am quite biased as Italy is my favorite European country, having been there on six separate trips in the last five years! I found her experiences in Italy magical, although nothing too extraordinary really happened. It is just my own daydreams of lounging about in Italy, learning the language, eating great food, and meeting friendly Italians coming into the equation. Thus, I was a bit let down once that section of the book was over and she moved onto India where her life swung to the other end of the spectrum consisting of pre-dawn yoga sessions and following the blue light to god (not quite as fun in my book). This is a mostly light-hearted read of one woman's journey in repairing her soul after coming out of a failed marriage and rebound romance. She spends a year taking care of herself and really getting to know herself. Not enough people have the luxury of doing this (she does, as a successful writer) but you can really see that this is an experience that everyone can benefit from. Especially in this day and age where you have so much going on that you don't take enough time to take care of numero uno, yourself. And didn't someone once say that a life not examined is not worth living? It also makes me think that the usual gap year that the Brits and Aussies take in their early 20s is pre-mature. Those trips must generally be spent in alcoholic stupors with not much life examination as a by-product. Such a trip should be delayed and taken when you've been through a bit more of life and could really use a breather.
Review by elliepotten
16/06/2015
Oh, how glad I am that I discovered this book, at this time, in this place, right here and now. Elizabeth Gilbert would say that the pieces were falling into place exactly as they were meant to. There were so many negative reviews that I went into this journey with scepticism and entirely accepting the idea that I might hate it - but it ended up changing my life for the better. No word of a lie.Liz Gilbert went through a messy marital disintegration, then a messy divorce, and rolled into a messy relationship, and no matter how much she tried to clean things up she was pretty much at rock bottom. What she wanted, when she managed to delve that far, was to regain her strength, find peace, and ultimately achieve the perfect balance between spirituality and pleasure in her life. The best way to do this? Four months in Italy eating, drinking and being merry; four months in India, living in an Ashram and finding inner peace; and finally, four months in Bali, under the watchful eye of an old medicine man, finding her balance.Well, once our Liz had gotten over that miserable early stage of laying out her despair (we've all done that, and to be fair it didn't go on THAT long), it was an exquisite journey and I felt privileged to be along for the ride, learning as she learned, understanding as she understood. In Italy she regained her strength, ate pasta, learned Italian, made friends, and came back to life. In India she learned the art of meditation, new ways of looking at life, and found peace. And in Bali she honed everything she had gained so far: generosity, spirituality, friendship, enjoyment of life. And there, too, she finds love again.The book is split into 108 mini-chapters, like the ancient beads used to count mantras, making it easier to absorb each morsel of what Gilbert has to say, whether it is about her learning, her past, or her ideas. She is quite honest about her joy and sadness, her virtues and her vices, the parts she enjoys and the aspects she struggles with. Like everyone, she has her misgivings about certain elements of her journey, but she is never afraid to voice those misgivings, or to admit when she is wrong.All in all, I found this to be fresh, honest and inspiring. I had bits of paper dotted through the book by the end, marking things I wanted to go back to and write down for the future. I think 'Eat, Pray, Love' may have changed my life. I learned so much and found so many things to think about within these pages. Having an anxious personality and still suffering agoraphobia, I've already found myself using some of the techniques Gilbert used to find her peace - and they work! She's reminded me of who I want to be, how stuck I am in my own fear so much of the time, and how I lose the chance of enjoyment and peace as a result. Now I feel like I can take steps in the right direction again without being afraid.How I can I offer any better review than that?!
Review by ungoliant
16/06/2015
Okay, this really isn't the kind of book I usually buy. And after reading some reviews, I was so prepared to hate it. But I really liked it! I'm not spiritual at all, but her experiences with love, depression and loneliness were so familiar to me. Completely unexpected, but yes, I enjoyed this memoir.
Review by shelleyraec
16/06/2015
A shallow, narcissistic exploration of love and spirituality by a shallow, narcissistic woman. I had to push myself through much of the book but I could have forgiven her if she had learnt anything about responsibility, empathy or altrusim. But sadly it ends where she began - certain that her happiness is all that matters.
Review by wodfest
16/06/2015
Yeah. It's ok.I don't really 'get' its extreme success outside of the USA. I do understand that it is a person's search for self and that necessarily means that it is very self absorbed/obsessed/interested so those aspects don't grate as badly for me.I loved the time in Italy. I do think that is the strongest part of the book so don't worry if you give up 1/3rd of the way through. With a sufi grandmother I found the bits in India fascinating and evocative. I can understand that someone without a personal interest might find this bit tedious but it was a quiet reminder to me that I do want to visit the place in QLD where her ashes lie.I'm not even vaguely interested in her followup book.