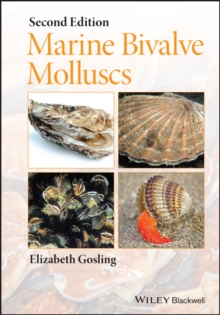 Marine Bivalve Molluscs
Hardback
Description
Marine Bivalve Molluscs is a comprehensive and thoroughly updated second edition of Bivalve Molluscs, covering all major aspects of this important class of invertebrates.
As well as being an important class biologically and ecologically, many of the bivalves are fished and cultured commercially (e.g. mussels, oysters, scallops and clams) in a multi-billion dollar worldwide industry.
Elizabeth Gosling has written a landmark book that will stand for many years as the standard work on the subject.
Chapters in Marine Bivalve Molluscs cover morphology, ecology, feeding, reproduction, settlement and recruitment, growth, physiology, fisheries, aquaculture, genetics, diseases and parasites, and public health issues.
A full understanding of many of these aspects is vital for all those working in bivalve fisheries and culture.
An essential purchase for anyone concerned with this important class of animals, copies of Marine Bivalve Molluscs should be on the shelves of biologists, ecologists, environmental scientists, fisheries scientists and personnel within the aquaculture industry. Copies of the book should be available in all libraries and research establishments where these subjects are studied or taught.
Reviews of the First Edition An admirable achievement...a valuable addition to marine sciences libraries everywhere.
The back cover of this book says that it is a landmark text that will stand for many years as the standard work on this subject.
I can only agree with this sentiment. Aquaculture A welcome addition to the literature and provides the reader with a comprehensive overview of biological and environmental factors that affect and control both natural populations of marine bivalves and culture operations.
Aquaculture International The author has done an admirable job in compiling a wealth of information into a readable text.
Transactions of the American Fisheries Society Will serve well as a description of much of both the experimental biology and the aquaculture of bivalves.
Journal of Experimental Marine Biology and Ecology Provides excellent reviews of all major aspects an extremely important reference for anyone engaged in bivalve research, fisheries management, and aquaculture. Quarterly Review of Biology The book is very readable, in an easy style.
It is well illustrated and there is a wealth of data and statistics presented.
Bulletin of The Malacological Society of London
Information
Format: Hardback
Pages: 536 pages
Publisher: John Wiley & Sons Inc
Publication Date: 10/07/2015
Category: Molluscs
ISBN: 9780470674949
Free Home Delivery
on all orders
Pick up orders
from local bookshops
Also by Elizabeth Gosling