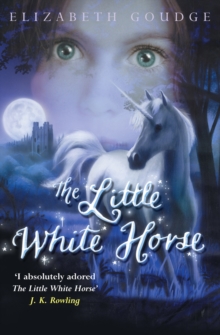 Little White Horse
Paperback
Description
'For a fleeting instant Maria thought she saw a little white horse with a flowing mane and tail, head raised, poised, halted in mid-flight, as though it had seen her and was glad.' The beautiful valley of Moonacre is shadowed by the memory of the Moon Princess and the mysterious little white horse.
When Maria Merryweather comes there on a visit she finds herself involved with an ancient feud.
She is determined to restore peace and happiness to the whole of Moonacre Valley. And Maria usually gets her own way...
Information
Format: Paperback
Pages: 240 pages, black & white illustrations
Publisher: Lion Hudson Plc
Publication Date: 03/07/2000
Category: Classic
ISBN: 9780745945781
Other Formats
Hardback from £8.89
EPUB from £4.54
Free Home Delivery
on all orders
Pick up orders
from local bookshops
Reviews
Showing 1 - 5 of 5 reviews.
Review by wyvernfriend
16/06/2015
A story set in Victorian England with an orphan who moves to her uncles house. Her uncle is a man who is deeply involved in the local myths and legends and accepts them without question. Many years ago there was a conflict between his ancestors and the ancestors of the Dark Men and this has continued to this day, legend says that there will come a moon princess who will cure this rancor and allow all the people in the area to live together in harmony.There are moments where this is quite a fun read but there are also moments that seemed to be a little too full of "look, here, allegory". Still not a bad read and I'm glad I picked it up.
Review by soliloquies
16/06/2015
Absolutely enchanting! An old fashioned style book where you can really escape into Maria's world. Beautiful prose which easily conveys a sense of innocence, that you rarely find in more modern books.
Review by shanaqui
16/06/2015
Seventh book of the twenty-four hour readathon. Gosh, I'm sleepy.<br/><br/>The Little White Horse is a little fairytale, really. I remember a friend in first year recommendng it to me over and over again, so I had quite high hopes, but I don't think it's really that special. Everything is very predictable, and often slightly silly -- mistaking a lion for a dog, really? It's kind of sweet, at times, but it edges into too sweet. I'd have liked more of a sense of risk, and for things to come a bit less easily. The characters are not really characters at all, just archetypes -- barely more believable and emotional than card-board cutouts.<br/><br/>I would probably enjoy this one more if I'd read it when I was younger...
Review by kerryelizabeth
16/06/2015
Book two of my nostalgic journey through my favourite childhood books is now complete, and with no hesitation at all I add it to my favourites as an adult, too. This is one of those tales that will stay with you for life, and I know as a young'n this was my favourite book of all time along with one other that will be reviewed at a later date. It's been a while since I last read it and the details were beginning to get a little fuzzy, and as such had forgotten over half of the book, but it's absolutely wonderful. And here's why.The novel revolves around little Maria Merryweather, who relocates to the colourful and jovial Moonacre Valley to live within Moonacre Manor. Despite growing up with London and its luxuries, Maria finds herself more at home than she ever was in London, and soon grows to love everyone and everything within the Valley. And yet she is thrust into the midst of an ancient feud, and takes it upon herself to restore peace to the valley, and Maria usually gets her own way!Elizabeth Goudge is the absolute queen of adjectives. Her descriptions are rich and delicious and are described so vividly that everything just jumps off of the page. Absolutely everything is described to the fullest of its potential; the clothes, the people, the animals, the nature, and even the moon itself. Even as a character is telling a fairy tale within the book, the inception-like story within the story tells itself so wonderfully and with such elegance and vigour that it just leaps off of the page and feels like it's being planted in your mind forever. It is in this way that most of the characters are developed. We get to see their facial expressions and body language, and truly feel their emotions and understand their innermost thoughts. It's just oozing with richness and elegance.The story itself is delightful. It's full of heroes, noble steeds, baddies, magic, ancient feuds, good, bad, and everything inbetween. It's a lovely little fairy tale, and despite the magic within it there is a hint of reality and almost a moral to the story. Within everyone there are good traits and bad traits, and this is shown even in the "baddies" of the novel, who are shown to have good humour and honour. The good guys are proud and sometimes greedy. It's just refreshing to see the grey area within people instead of "everything about this person is good" and "everything about this person is bad". The use of colour to depict people and places is a nice little metaphor and a good way to predict what's to come.Of course, as in every story, it does have its faults. It's quite a sexist book. For example, Maria's ancestor is being too proud and silly because she didn't forgive her husband for marrying her for the inheritance instead of love. And women are taught not to be curious or outspoken, and are told never to be aggravating or argue with their husbands, even if they are being utterly revolting in their speech. One particular example would be when a man throws all of his fiancées precious flowers and telling her she didn't deserve to marry him, and yet it was the woman who was blamed for being silly for not forgiving him and caring too much about the flowers. And Maria gets married at 14 or 15, which is wrong in the eyes of society today. All of this can be put down to the era in which it was set, though, which was the year 1842. It was acceptable for girls or 14 of 15 to be married in that era, I believe. Overall, this is a wonderful tale that will stay with you for years, and despite its faults it is a delightful little novel. I give it my highest recommendation.
Review by DaffiMere
27/01/2016
A sweet story. Glad that I've read it.