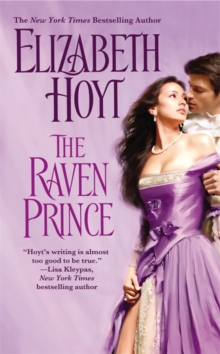 The Raven Prince : Number 1 in series
Paperback
Description
There comes a time in a woman's life when she must do the unthinkable - and find employment.
For the widowed Anna Wren, that means taking a job as female secretary for the Earl of Swartingham. Secretaries are always male - never female - as Anna well knows but the real downfall of her career is the realisation that she is falling in love with Edward de Raaf - the Earl. But when she realises that he is going to visit a brothel in London to take care of his 'manly' desires, Anna sees red - and decides to take advantage of the opportunity to also take care of her 'womanly' desires - with the Earl as her unknowing lover.
But the Earl has another reason for going to London.
He is formalising his betrothal and trying (with little success) to forget about a secretary that has no right being female.
Unhandsome, he knows that no woman wants him. Except for the mysterious lady with whom he spent two unforgettable nights at Aphrodite's Grotto, the most scandalous brothel in London. But when Anna's plan is revealed, a bit of blackmail is thrown into the mix, a proposal is rejected and even the Earl himself will be unprepared for the intrigues that ensnare them.
Information
Format: Paperback
Pages: 400 pages
Publisher: Little, Brown & Company
Publication Date: 01/11/2006
Category: Historical fiction
ISBN: 9780446618472
Free Home Delivery
on all orders
Pick up orders
from local bookshops
Reviews
Showing 1 - 5 of 18 reviews.
Previous | Next
Review by dkthain
16/06/2015
I was blown away by how much I enjoyed this book. The main characters Edward and Anna were both delightful. Edward is a grumpy, short tempered, rude earl - and he's adorable. Anna, a down on her luck widow manages to trick her way into a job as his secretary. They are very much drawn to each other but things manage to get in their way. It's delightful to see them spar with each other. I highly recommend this book!
Review by rocalisa
16/06/2015
The Raven Prince by Elizabeth HoytAfter reviewing her somewhat precarious financial situation, Anna Wren comes to the conclusion that she needs a job. When she discovers that Edward de Raaf, the Earl of Swartingham, requires a new secretary, it seems like the perfect solution to her employment problem. Having already lost two secretaries because of his temper, Edward reluctantly agrees to give Anna a chance. Much to Anna's surprise, she finds she likes working for the often stubborn but unexpectedly kind Edward, and Edward soon realizes that Anna is not only an excellent secretary but also an extraordinarily intriguing woman.It's just long enough now that, given my awful memory, I don't remember a lot of the details on this one, but do have an overall impression. This was a good, solid but for me, average, read. With one significant exception, the story flowed nicely, and Anna and Edward worked well together.The love scenes were a bit more vulgar (not in a bad way, just that I can't think of a better word) than in many historical romances. I don't know if this is due to the author or the setting, as this is a Georgian-set rather than Regency-set novel. They work fine, but I did notice the difference.My main problem with this book was the whole "Anna in the brothel" aspect of it. How does a gentle and impoverished county widow end up, appropriately dressed, in London's classiest and most exclusive brothel, in the position to choose who she spends the night with? The coincidences required for this just stretched my suspension of disbelief too far. All the same, if the unliklihood of all this is ignored, the story is a decent one and I enjoyed reading it. I'm expect I'll also read the others in the series.The Raven PrincePrince Trilogy, Book 1Elizabeth Hoyt7/10
Review by lina_em
16/06/2015
edward was such a brute!!!! but the underlying passion between them was undeniable.
Review by Jenson_AKA_DL
16/06/2015
The widow Anna Wren is desperate to find a job to support her meager household. The Earl of Swartingham is in need of a secretary that won't run away when he loses his temper (which happens quite frequently). When the Earl and Anna agree to the business arrangement both are surprised to find themselves quickly enamored of each other. But each is afraid to reveal their feelings to the other as such a union is considered impossible because of social status. When Anna discovers the Earl is going to a exclusive bordello in London she concocts a plan to meet with him without revealing her identity knowing if she were to be discovered it may ruin her forever.In expanding my author base for historical romances I'm never sure if I will like a book or not. "The Raven Prince" was certainly one I don't regret reading. I enjoyed both Anna and the Earl. It was interesting how the author took pains to make the hero somewhat obnoxious, temperamental and not overly attractive and yet still managed to make him very likable at the same time. Even the secondary character of the Earl's dog was utterly charming in similar uncouth way. Another thing I found rather cute, although it will probably depend on what edition of this book you read, is that the author gave a little interview with the Earl at the end of the book which made me giggle. I thought that this romance was very enjoyable and plan to read more by this author.
Review by amf0001
16/06/2015
Delightful romance, moving, funny, sexual and sensual. A keeper. Anna Wren is an impoverished widow living iwth her mother-in-law when a series of circumstances lead her to become the new Earl's secretary. Shocking! And she's lovely, smart, funny, sexual. I liked Anna alot. Edward is interesting, sensitive about his pock marked features, devestated by the plague that took all his other family members.
Also in the Princes Trilogy series