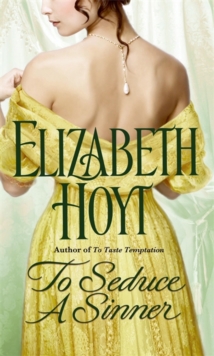 To Seduce a Sinner
Paperback
Description
Jasper Renshaw, Viscount Vale, has a problem: he needs to marry and produce an heir to the title.
All Jasper wants is to find a lady who will put up with him long enough to wed so he can return to his customary life of drinking and womanizing.
Melisande Fleming, on the other hand, has been secretly in love with Jasper for years.
Knowing that Jasper is under pressure to marry, Melisande grasps her fate with both hands and volunteers to wed him, even though she means nothing to him. Although Jasper is initially only interested in producing an heir, their wedding night is pleasant, if not earth-shattering and he oddly enough finds himself curious about his wife. What does Melisande do all day? What does she think about? Melisande, however, has everything she told herself she'd be content with: marriage to the man she loves. But to her chagrin, she wants more from the Jasper. More of his time, more of his thoughts and heart, and really, while we're on the subject, more lovemaking.
Thus, she sets out to seduce her husband by night even as he starts turning up in her life during the day.
Information
Format: Paperback
Pages: 384 pages, Illustrations
Publisher: Little, Brown & Company
Publication Date: 04/12/2008
Category: Historical fiction
ISBN: 9780446406925
Other Formats
EPUB from £2.99
eAudiobook MP3 from £16.76
Free Home Delivery
on all orders
Pick up orders
from local bookshops
Reviews
Showing 1 - 5 of 9 reviews.
Previous | Next
Review by jjmachshev
16/06/2015
Reviewed for queuemyreview.com; book release Nov08"To Seduce a Sinner" is Elizabeth Hoyt's second historical in her 'Legend of the Four Soldiers' series. While it's not necessary to read the first one to enjoy this book, I do think it would make the reading experience richer and fuller. Each of the books in this series is about (DUH) a man returning from war with physical and/or mental wounds. Each chapter is also headed by a scene from a fairy tale that, in some way, mirrors the story of the novel. Melisande has loved Vale for years. She loved him through his engagement to her best friend. She loved him while watching him seduce and beguile a parade of lovers. So when she attends his wedding, where he is jilted at the altar, she seizes her opportunity and asks HIM to marry HER. To her surprise and delight he says yes. She's sure that now she will have the fulfilling love life she's missing and, as long as she doesn't let on she loves him, a satisfactory marriage without love or hurt. Be careful what you wish for…Vale is fine with marrying Melisande, even if she's not an acknowledged beauty with big bosoms. He figures their marriage will be like that of most of the ton. They'll be faithful until she becomes pregnant, then she'll quietly raise the children while he procures a mistress. That's all just as well, as he has a few secrets he has no intention of sharing with any woman, much less his wife. Soon he's fascinated with Melisande. Is she the seductress she plays at night or the prim and proper society matron she appears by day?These two were an interesting pair. Both determined to live out their lives yet still allowing their behaviors to be ruled by events of the past. There were several things that bothered me while I read this book. The heroine was cold throughout the book. Even when some of her actions seemed kind and loving, she herself never came off that way to me. And the hero wore the face of a jester, constantly using banter to cover any hurts and so I never really understood the depths of his guilt. These two things made the pairing a difficult one for me to understand and feel emotionally. And even the sex felt like, well…sex. Not making love, sex. Hot sex, but just sex.The way the heroine reacts to the different facets of his 'secret' just seemed off to me. The acceptance was great, but…no questions? I had a ton of 'em. And when she finally tells him her big 'secret', he's immediately accepting of it? In that time period in that country? Uh, no. I don't think so. And then the story just blithely moves on? Ummm, OK.So "To Seduce a Sinner" is an angst-ridden story of two opposites who are, in a way, living in the past. Unfortunately for me, they never really 'clicked' as a pair and so the romance…wasn't. The secondary characters were in some ways more interesting to me and I want to read the next book, "To Beguile a Beauty" as the glimpses of the hero-to-be were fascinating. So, if you're already reading Elizabeth Hoyt's series, you may want to check this one out. If nothing else, see what you think about the upcoming hero.
Review by wyvernfriend
16/06/2015
An interesting story of a woman who has watched a man from afar who offers to take the place of his bride when he is jilted. Things get more interesting when they both start to find that actually they're well suited. The two characters are interesting and have depth and I enjoyed the read, now I'm looking forward to reading more from this series to see what happens next.The two of them have to come to terms with their issues and it's an interesting trip.
Review by theshadowknows
16/06/2015
Two secondary characters from To Taste Temptation, Lord Jasper Vale and Melisande Flemming, get their own story in this next installment of the Legend of the Four Soldiers series. I was kind of surprised to find that these two were going to have their own story because they seemed like such side-kick type characters. Surprised but pleased, because one of the things I like best about Hoyt is the originality of her books - even when she seems to adhere to formula, the style of her writing, the way she presents her characters, is different and fresh. Maybe it's something to do with the time period she writes in as well. I think she was daringly original in To Seduce a Sinner - particularly in her choice of hero. He's compared to a Basset Hound I think in the first book, acts a bit ditzy, and certainly doesn't fit the tall, dark, and handsome mold. Melisande isn't quite so different in that she is a plain spinster - but her self possession, poise, and common sense still rang true for me. I think together they had the makings of a great love story. Jasper plays the part of a clown, but his laughter conceals the torment of psychological war wounds. (And I'm a sucker for the whole "ridi, Pagliaccio" feel to his character.) Melisande has loved Jasper for years without his knowing she exists. He plans on a typical aristocratic marriage of convenience that will allow him to conceal how shamefully (in his opinion) he's been warped by his war experience. She likewise hopes to keep all her secrets. All the ingredients for redemption, passion, and healing are there. And I really loved the fairy tale, Laughing Jack, for this book. I just wish Melisande and Jasper's romance could have been as compelling as the fairy tale. The story never seemed to take off or get to the bottom of their emotions, their love. Nothing's done with Jasper's "dark secret" - Melisande just finds out one day and they barely even comment on it. I particularly couldn't reconcile Melisande's actions. She chases after Lord Vale and proposes marriage to him because she loves him. Once she's gotten what she wants, she's determined never to let him know how she feels, but she's still not happy without his love. Her contradictions didn't make sense, and it seemed like she was just hiding her love for him out of concession to silly formula (the old tale that she was hurt by another man in the past and she'll never let herself be so vulnerable again.) In addition, the mystery element (the ongoing search for the one who betrayed Jasper and his men during the war) is just as awkwardly handled here as it was in To Taste Temptation, but the characters and romance weren't strong enough to make up for it. All the same, Hoyt writes well, and there were some quiet, happy moments in the story that I liked. Not a great book, but I didn't hate it either.
Review by MickyFine
16/06/2015
Jasper Renshaw, Viscount Vale is disconcerted when he is left at the altar by his fiancee, the second time he has been turned aside by a fiancee. He is bemused and agreeable however, when Melisande Fleming offers herself to him as a bride. Melisande is thrilled that the man she has watched from a distance and loved for the past few years. But she also knows that revealing her love could hurt her irrecoverably. Vale, meanwhile, is highly curious about the mysteries contained within his wife and makes every effort to discover them, while also trying to uncover the betrayer who lead an entire regiment to be massacred during his time in the military. As Vale continues to dig, his obsession threatens to tear the couple apart.The second in a series, Hoyt crafts highly realistic characters with weaknesses rather than idealized individuals. Melisande is shy and afraid of heights, while Jasper is emotionally scarred by his experiences in the military. Hoyt also doesn't reduce servants to wallpaper, instead the major subplot focuses on Melisande's lady's maid and Vale's valet. I also always highly appreciate Hoyt's fairy tale that she includes in her historical romances, sections of which head each chapter and really expound on the themes and plot developments occurring in the main narrative. Just as enjoyable as I expect from Hoyt with a particularly sweet ending.
Review by RockStarNinja
16/06/2015
I loved this book. It was definitely better than the 1st of the series. I think the characters were easier to relate to than the previous, but it could also have helped that the hero and heroine were introduced and we got to know some of their personality in the previous book. I also found that the love scenes make much more sense in this story and I thought they had much more meaning for the characters. But it could be that I just liked the characters more and really cared if they were happy. The war story was also much more moving compared to the 1st. In this book the hero had actually been in the think of the fighting and it was absolutely clear how it affected him.
Also in the The Legend of the Four Soldiers series | View all