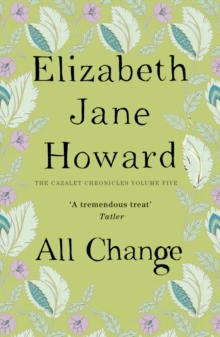 Description
`Elizabeth Jane Howard is one of those novelists who shows, through her work, what the novel is for . . . She helps us to do the necessary thing - open our eyes and our hearts' Hilary Mantel It is the 1950s and as the Duchy, the Cazalets' beloved matriarch, dies, she takes with her the last remnants of a disappearing world - of houses with servants, of class and tradition - in which the Cazalets have thrived. Louise, now divorced, becomes entangled in a painful affair; while Polly and Clary must balance marriage and motherhood with their own ideas and ambitions. Hugh and Edward, now in their sixties, are feeling ill-equipped for this modern world; while Villy, long abandoned by her husband, must at last learn to live independently.
But it is Rachel, who has always lived for others, who will face her greatest challenges yet. Events converge at Christmas; as a new generation of Cazalets descend on Home Place.
Only one thing is certain: nothing will ever be the same again. All Change is the fifth novel in Elizabeth Jane Howard's Cazalet Chronicles.
Read from the beginning of the series: The Light Years, Marking Time, Casting Off and Confusion.
Information
Format: Paperback
Pages: 592 pages
Publisher: Pan Macmillan
Publication Date: 27/03/2014
Category: Sagas
ISBN: 9780330508988
Free Home Delivery
on all orders
Pick up orders
from local bookshops
Reviews
Showing 1 - 1 of 1 reviews.
Review by annejacinta
16/06/2015
I love these chronicles so it was fantastic to be able to read on in the Cazalet saga, set 20 years on from the start in 1937. New characters include the offspring of the original children - Howard creates their individual voices and personalities with her usual cleverness. Has she ever produced an unlikeable character? They may vary between headstrong or weak, over emotional or repressed, too honest or deceitful, but it is hard to pick one for whom we have no sympathy at some stage in the series. We see the impact of earlier behaviours playing out, negatively in some cases, in others there is a rewarding resolution. But there are losses, sorrows, grief and suffering as the realities of life circumstances alter after the war. The passage of time is shown more clearly in changes in relationships. Maybe there is less of the descriptive detail of everyday life in this final volume, more emphasis on emotion rather than the characters' actions and routines. There is something dogged about the rapid turnover of chapters, each headed with the names of those involved, as if Howard was determined to follow up everyone in what she may have considered her last work in the series. It' is a very long book, with lots happening to keep the reader very engaged with this very well known group of characters, set in such a significant period of the twentieth century for England.
Also by Elizabeth Jane Howard | View all
Also in the Cazalet Chronicles series | View all