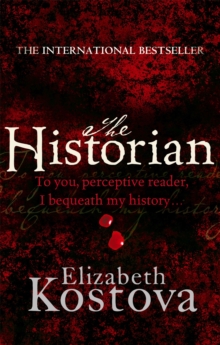 Description
Late one night, exploring her father's library, a young woman finds an ancient book and a cache of yellowing letters addressed ominously to 'My dear and unfortunate successor'.
Her discovery plunges her into a world she never dreamed of - a labyrinth where the secrets of her father's past and her mother's mysterious fate connect to an evil hidden in the depths of history. In those few quiet moments, she unwittingly assumes a quest she will discover is her birthright - a hunt for the truth about Vlad the Impaler, the medieval ruler whose barbarous reign formed the basis of the Dracula myth.
Deciphering obscure signs and hidden texts, reading codes worked into the fabric of medieval monastic traditions, and evading terrifying adversaries, one woman comes ever closer to the secret of her own past and a confrontation with the very definition of evil. Elizabeth Kostova's debut novel is an adventure of monumental proportions - a captivating tale that blends fact and fantasy, history and the present with an assurance that is almost unbearably suspenseful - and utterly unforgettable.
Information
Format: Paperback
Pages: 752 pages
Publisher: Little, Brown Book Group
Publication Date: 06/02/2006
ISBN: 9780751537284
Other Formats
EPUB from £6.99
CD-Audio from £16.35
Free Home Delivery
on all orders
Pick up orders
from local bookshops
Reviews
Showing 1 - 5 of 89 reviews.
Previous | Next
Review by johnthefireman
16/06/2015
A very well-written book with an interesting and different take on vampires. Set in eastern Europe and Turkey it suggests that vampires were a problem for the Ottoman Empire as well as for the Christian west. Told through letters, reminiscences and flash-backs, it really holds the reader's interest.
Review by Wanderlust_Lost
16/06/2015
This book is a modern Dracula mystery set against the backdrop of 1950s Europe. The beautifully painted settings of old-world Europe vs. \"modernity\" mesh perfectly with the updated Dracula story. This is a mystery solved not by running around and shooting things, but by hours spent reading in dusty libraries and the libraries themselves make for excellent readings. Kostova has the wonderful ability to draw you right into her world. I found myself becoming familiar with places I\'d never been and now plan on taking a holiday to some of the areas mentioned simply because of her beautiful descriptions. Even if you hate vampire/Dracula novels you might just love this book as the mystery/hunt for Dracula is secondary to the lovely medieval feel of the novel.
Review by ADallasCat
16/06/2015
I read this while on vacation, and have to say that it is one of the few books that made me double check the door was closed and the windows shut. Kostova gives wonderfully vivid character and images along with a storyline that draws the reader. The mixture of history and fiction blend well together and make the reader even more interested in Vlad Tepes. The only down side of the book is the ending seems lesser than the beginning. I was disappointed in the final chapters but the disappointment does not out weigh the enjoyment from the rest of the book. I have recommended it to many people since I read it, and continue to do so.
Review by mireilleisis
16/06/2015
I absolutely loved this book. Althought it was a little dense in parts with the description of landscapes and locations, trust me it is worth "setting the scene".A beautiful historical encounter with one of the most enigmatic "legends" of all time.
Review by devenish
16/06/2015
This book follows the long (oh so very long) search for Dracula by the hero and heroine of this most tedious of tales.When the Vampire was finally found I really had hopes of at least one of the main characters being wiped out completely to put both them and the reader out of their misery.This was not to be and one was left in a state of -Is that it - is that what I have waded through 704 pages for ! Argggh !Anyway,let's face it the whole thing has been done so much better by Bram Stoker.