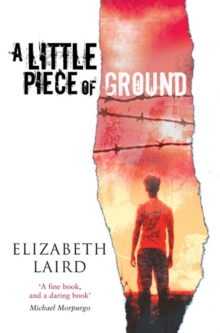 A Little Piece of Ground
Paperback
Description
12-year-old Karim Aboudi and his family are trapped in their Ramallah home by a strict curfew.
Israeli tanks control the city in response to a Palestinian suicide bombing.
Karim longs to play football with his mates -- being stuck inside with his teenage brother and fearful parents is driving him crazy.
When the curfew ends, he and his friend discover an unused patch of ground that's the perfect site for a football pitch.
Nearby, an old car hidden intact under bulldozed buildings makes a brilliant den.
But in this city there's constant danger, even for schoolboys. And when Israeli soldiers find Karim outside during the next curfew it seems impossible that he will survive ...A LITTLE PIECE OF GROUND is an exciting, enlightening and important story that brings to life the reality of events reported daily in the news, and will help young readers understand more about one of the worst conflicts affecting our world today. 'A fine book, and a daring book' Michael Morpurgo 'This book must go down as a brave, serious and successful attempt to reach out and have this story heard' Michael Rosen, Books for Keeps 'A Little Piece of Ground has the same rights as any other book to be on the shelves of shops and libraries.
I also think that by reading books like this, and acknowledging other points of view, it will be easier for both sides to understand each other' Jewish Chronicle (14-year-old reader.)
Information
Format: Paperback
Pages: 224 pages
Publisher: Pan Macmillan
Publication Date: 06/08/2004
Category: General
ISBN: 9780330437431
Free Home Delivery
on all orders
Pick up orders
from local bookshops
Reviews
Showing 1 - 2 of 2 reviews.
Review by Niecierpek
16/06/2015
The book tells the story of the Palestinian-Israeli conflict from the Palestinian point of view, or more accurately from the point of view of an eleven-year-old boy, Karim, from a middle class family in Ramala.A good attempt to have the other side of the story heard.(Written with Sonia Nimr, a lecturer at Bir Zeit University in Palestine and a translator of children's books.)
Review by blackhornet
16/06/2015
It is refreshing to read a children's novel that so honestly examines conflict. OK, so it is written within the conventions of children's fiction, so the three main protagonists are unrealistically optimistic and resilient in the face of the hardships they suffer, but it still gets across some truths to which children in the UK will rarely be exposed without sacrificing a strong sense of narrative.Set in Ramallah, the story focuses on Karim, Joni and Hopper as they live under the Israeli occupation of Palestine. The three boys are drawn from across social and religious boundaries to emphasise the generic conventions of searching for social harmony and oneness, but still the novel manages to stress the historical circumstances of Israeli occupation, openly referring to torture within prisons, the shooting of innocents and the forcible taking of land.I know it is not genuinely realistic but what a great starting point for young readers. It also made me re-evaluate my reading of John Boyne's 'The Boy in the Striped Pyjamas', which I found enjoyable but unsettling on some unknown level. I now think I can articulate where that came from. 'Pyjamas' decontextualises events. The historical forces that led to the Nazi persecution of the Jews are brushed aside by the naivety of nine-year-old Bruno's narration. As such readers are presented with an overly simplified view of human nature: there are good people and bad people and you better watch out because those bad people may get you whatever side of the line you exist upon. 'A Little Piece of Ground', on the other hand, while alluding to the possibility of wrong-doing from all sides of a conflict, is very clear that people act in certain ways under certain circumstances. Only when young people begin to understand this can they begin to fully understand one another. Excellent stuff. Made me want to read more by Laird.