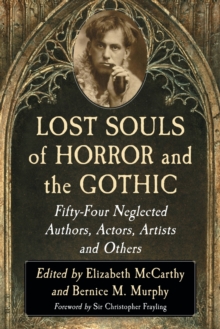 Lost Souls of Horror and the Gothic : Fifty-Four Neglected Authors, Actors, Artists and Others
Paperback / softback
Description
Horror and Gothic in all of their various forms have penetrated the cultural mainstream in a manner unseen since the last horror boom in mid/late 1970s; even people who would never before have entertained an interest in such dark genres are now happily settling down to watch zombie- and serial killer-related TV shows after the family dinner.
This unique collection of 54 short biographical essays, by scholars and experts, brings together a vast array of figures who have played a role in the ever-expanding world of Gothic and Horror.
However, you won't find the usual suspects here. Names such as Bram Stoker, Vincent Price, and Stephen King are notably absent.
Such titans of terror have received and continue to receive prominent attention in all manner of publications.
This collection, instead, focuses on those underrated or overlooked people whom our contributors persuasively argue are deserving of acknowledgement or reappraisal.
Stimulatingly eclectic, the essays muse and enthuse on figures as diverse as American singer-songwriter, Tom Waits; British occultist and author, Dion Fortune; American author and scriptwriter, Charles Beaumont; Gallo-Roman historian and Bishop, Gregory of Tours; British gothic novelist and playwright, Francis Lathom; Japanese video game designer, Shinji Mikami; English stage and film actor, Skelton Knaggs; 19th-century Irish novelist, Charlotte Riddell; and Russian-born American experimental filmmaker, Maya Deren.
Informative and entertaining, these essays expand, enrich (and, at times, challenge) the boundaries of what we actually define as Gothic and Horror.
They celebrate the wide variety of talented individuals whose participation in Gothic and Horror's ongoing evolution has been unjustly overlooked...until now.
Information
Format: Paperback / softback
Pages: 260 pages, 15 photographs
Publisher: McFarland & Co Inc
Publication Date: 30/10/2016
Category: Films, cinema
ISBN: 9781476663142