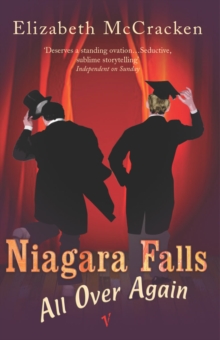 Niagara Falls All Over Again
Paperback
Description
Born into a Jewish family in a small town Iowa, the only boy among six sisters, Mose Sharp couldn't leave home soon enough.
By sixteen, Mose had already joined the vaudeville circuit.
But he knew one thing from the start: I needed a partner, he recalls.
I had always needed a partner. Then, an ebullient, self destructive comedian named Rocky Carter came crashing into his life and a thirty year partnership was born.
But as the comedy team of Carter and Sharp thrived from the vaudeville backwaters to Broadway to Hollywood, a funny thing happened amid the laughter: it was Mose who had all the best lines offstage.
Rocky would go through money, women, and wives in his restless search for love; Mose would settle down to a family life marked by fragile joy and wrenching tragedy. And soon, cracks were appearing in their complex relationship until one unforgivable act leads to another and a partnership begins to unravel.
Information
Format: Paperback
Pages: 320 pages
Publisher: Vintage Publishing
Publication Date: 01/01/2003
ISBN: 9780099429050
Free Home Delivery
on all orders
Pick up orders
from local bookshops
Reviews
Showing 1 - 3 of 3 reviews.
Review by alarra_c
16/06/2015
This just happened to push all my story buttons - love and dysfunctional families, the thin to disappearing line between love and the closest partnerships/frienships, to name a few - and it was funny and amusing and yet broke my heart in several ways.
Review by miriamparker
16/06/2015
A really beautiful and intricate (but not over-done) portrait of a man who was haunted by sadness, but performed comedy. This is one of my favorite juxtapositions.
Review by RandyMetcalfe
27/08/2015
Mose Sharensky, better known as Mike Sharp, is an ex-vaudeville straight man looking back on his life and career from extreme old age. Despite his father's expectations that Mose would follow him into the family dry goods business, Mose and his sister Hattie have plans to escape Des Moines to the vaudeville stage as a double act. But Hattie's unexpected death at eighteen puts an end to their dreams. Mose decides to continue on his own and barely ekes out a living until fortune brings him into the sights of Rocky Carter, a fat funny man in need of new straight man for his act. He takes Mose (by this time, Mike) under his wing and together they make a winning combination. First vaudeville, then Broadway, then Hollywood and some way off in the future, even the youthful medium of television. For a time it all works out and then it goes a bit sideways and then it fizzles entirely. Meanwhile, Rocky cycles through a seemingly endless series of 'the current Mrs Carter' and Mike settles down to married bliss with his dancer wife, Jessica, and their growing family. Although it isn't obvious from the outset, this is a story of a long life — more than 70 years. But in a way it is surprisingly uneventful. Tragedy, as you might expect in any story about comedians, abounds. But it doesn't always move us as readers. I think it is because we never get fully on board with Mike, who is also our narrator. Or maybe it's because Mike is quintessentially a straight man. It is rather Hattie who is funny and tragic, or Mimi who is funny and tragic, or Rocky, or Penny, or any one of the other characters who people these pages. Enough so that when Mike experiences truly tragic circumstances such as the death of his young daughter, we find ourselves looking to the others around him to reveal the meaning of this event rather than him.McCracken's writing is steady and workmanly. She keeps the story ticking along but never seems to generate either the raucous laughter that a tale of comedians might offer or the sadness that all too often underlies comedy. In the end we are left with a curiosity, a tale about comic men told in a voice that is not entirely believable. Sadly, not recommended.