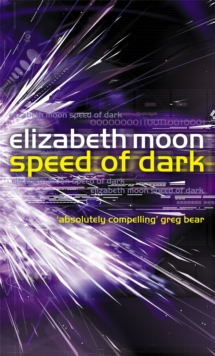 Speed of Dark : A Novel
Paperback
Description
Lou is different to 'normal' people. He interacts with the world in a way they do not understand.
He might not see the things they see, however, but he also sees many things they do not.
Lou is autistic.One of his skills is an ability to find patterns in data: extraordinary, complex, beautiful patterns that not even the most powerful computers can comprehend.
The company he works for has made considerable sums of money from Lou's work.
But now they want Lou to change - to become 'normal' like themselves. And he must face the greatest challenge of his life.
To understand the speed of dark.SPEED OF DARK is a powerful near-future thriller, the theme of which is both universal and intensely personal.
It is dedicated to the author's own autistic son, and to other parents of autistic children, 'in the hope that they also find that delight in difference'.Find out more about this title and others at www.orbitbooks.co.uk
Information
Format: Paperback
Pages: 432 pages
Publisher: Little, Brown Book Group
Publication Date: 07/11/2002
Category: Science fiction
ISBN: 9781841491417
Free Home Delivery
on all orders
Pick up orders
from local bookshops
Reviews
Showing 1 - 5 of 5 reviews.
Review by SimonW11
16/06/2015
Inevitable this is going to be compared with Flowers for Algernon. Equally inevitable it will suffer in that comparison. Judged by humbler standards though it does very well. Lou is a high functioning autisic man who thanks to support and special education holds down a job and even has a social life. Autism is Rapidly disapearin though prebirth intervention means autistic babies are cured before birth.Now his company is pressuribg him to try an experimental treatment that will cure him. But will he be the same person? If not does he want to be a different person.The story switches between an omniscient viewpoint and Lou's first person narrative. Lou is obviously very intellligent thoough he usually has a very simple sentence structure. He seems to have a much more complete theory of mind than Autistic people are normally credited with, wondering about the motivations of comparative strangers but of course with the autistic there is always more going on below the surface than one is aware of. His uncertainties and mistakes in ascribing motivations do form a lot of the plot. Elizabeth Moon's integrity as always is of the highest order and she provides no easy answers.
Review by lewispike
16/06/2015
A 'what if' story for a treatment for autism. Interesting treatment of the condition with some good questions about whether one should take the treatment if available and so forth. Clearly informed by her autistic child, but avoids being schmaltzy and turns into a good story.
Review by lorelorn_2007
16/06/2015
Lou Arrendale is an autistic man living in the near future. Able to operate effectively but not 'normally' in society.His work relies on his autistic condition; his ability to recognise and concentrate on patterns that others might miss. When a treatment for adult autism appears, a radical rebuilding of the brain, Lou must decide whether to remain himself, or whether to take the treatment and risk becoming a stranger.This book takes you at an almost leisurely pace to a climax that is moving and thought provoking.
Review by JudithProctor
16/06/2015
This is an extremely well-written, but slightly disconcerting book. The writer's research shows - by coincidence, I'd read an article in New Scientist on autism only a week before reading this and things were chiming all the way, especially with regard to sensory overload.Lou is an autistic. A high-functioning autistic who was helped by techniques developed while he was young. He's a genius at spotting patterns, whether they be in numeric data or in the moves of a fencing match. However, he has serious difficulty in understanding people. We slowly come to realise that he has been taught to mimic 'normal' behaviour. He knows what many of the rules are - when someone asks how you are, the correct answer is 'OK', but we come to realise that he doesn't know why this is the correct answer.He's confused when asked multiple questions; which order is he supposed to answer them in? He's marked down on IQ tests because he sees connections between items that are not the ones most people would choose.He's falling in love, but doesn't know what the rules are to ask a woman to dinner. His life is all pattern, routine and repetition.His life is pushed out of kilter when his new boss decides that he wants the autistics in his office to take a new (and unproven treatment) - and tells them they will lose their jobs if they refuse.Lou learns a lot about himself while trying to decide whether to take the treatment, and we learn a lot about him.Towards the end, I suddenly realised why the book is mostly written in the present tense. As we come towards the end, we realise that we do not know who Lou will be by the end of the book. It's unsettling (and deliberately so).Anyone who has read 'Flowers for Algernon' will understand the feeling exactly.I won't say how the book ends, but I do recommend reading it.(The book would have benefited from better proof-reading. My copy had two obvious typos and a point where the wrong tense was used - the tense change was particularly annoying as I assumed at first that the writer was trying to convey a subtle point by having Lou use the past tense when narrating)
Review by ennui2342
16/06/2015
A fascinating insight into the world of an autistic, written from a first person point of view. With a near future backdrop (although this has little impact on the story), Moon wonderfully describes the life of an autistic man grappling with his desire to be normal.