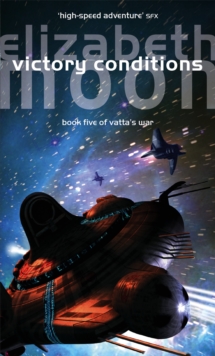 Victory Conditions
Paperback
Description
A vast and hostile force is attacking prosperous trade centres, destroying their space fleets then moving on, leaving death and chaos in their wake.
Admiral Ky Vatta's family was decimated by one such attack and Turek, the pirate force's leader, will not escape her vengeance. Ky has a loyal taskforce, but the enemy have three times the ships and the firepower to match.
She must offset these advantages with her knowledge of military strategy and her ace: superior ansible technology, facilitating fast and accurate in-space intelligence. The alternative to victory is unthinkable - devastation of interplanetary trading networks on a galaxy-wide scale - and the end of a way of life. 'Rip-roaring action ...This epic volume is a fine and fitting conclusion to Moon's grand space opera tour de force' PUBLISHERS WEEKLY
Information
Format: Paperback
Pages: 480 pages
Publisher: Little, Brown Book Group
Publication Date: 03/04/2008
Category: Science fiction
ISBN: 9781841495989
Free Home Delivery
on all orders
Pick up orders
from local bookshops
Reviews
Showing 1 - 2 of 2 reviews.
Review by lewispike
16/06/2015
A pleasing conclusion to the run of this series. Ky expands her forces, several times in fact, and uses some good guess work and some intelligence work to hit Turek's plans to increase his fleet with up-to-date ships, and then the final pitched battle, around ISC headquarters (where else) and Nexus. There is also intelligence applied in the other sense, as Ky to a large extent, and her officers to a lesser extent and/or in the background use their training to analyse their battles and develop new tactics for space combat using instantaneous communication.There's quite a bit of exposing of traitors in Nexus' political system, little bits of business politics and some fast play from a military intelligence point of view.
Review by veracity
16/06/2015
A satisfying close to the Vatta's War series in which all the expected - and some unexpected - events take place as Ky takes on the pirates as Admiral of her own Space Defence Force. I did feel that this book was edited fairly ferociously in order to keep it around the same length as the previous books and that some potentially interesting sub-plots in the latter half were left out. And - not complaining too much - but the ending was just slightly too saccharine to me and didn't quite fit with the characterisations set up in the previous books. Nevertheless, this was an enjoyable Elizabeth Moon read and well worth it.
Also in the Vatta's War series | View all