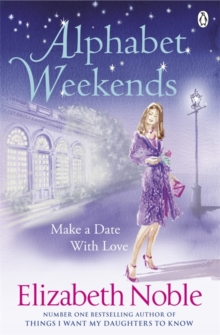 Alphabet Weekends
Paperback
Description
The ultimate romantic comedy from the Number One bestsellerNatalie and her sisters have known Tom and his family forever.
They climbed trees together, scraped knees on the same pavements and, in taking shared steps towards adulthood, shaped bonds that would last a lifetime.So when Natalie's long-term love walks out on her, Tom's is the much-needed shoulder she cries on. And Tom dreams up an ingenious way to dry her tears: a series of Alphabet Weekends - starting with A for Abseiling - to make her forget the heartache and, he hopes, to make her see what's been staring her in the face all these years.
His genuine love for her.But as they tumble from A to Z, their families and friends face broken hearts and tragedies of their own.
Can the Alphabet Weekends unlock love in all its many and wonderful guises? And not just for Natalie and Tom, but for everyone they care about?
Information
Format: Paperback
Pages: 480 pages
Publisher: Penguin Books Ltd
Publication Date: 01/02/2010
ISBN: 9780141044729
Free Home Delivery
on all orders
Pick up orders
from local bookshops
Reviews
Showing 1 - 1 of 1 reviews.
Review by sunnycouger
16/06/2015
I found this a little slow to get into initially as it felt like too many characters were introduced too quickly for it to be possible to grasp who was who and care about what was going on. It actually wasn't really a problem though because as soon as the intros were out the way we got to know the characters more. The story is really about three different relationship - Natalie, who has just broken up with her long term boyfriend and her best friend Tom, her father and mother and Tom's brother Patrick and his wife Lucy. To be honest, 2 of the 3 storylines are really good. The main storyline of Tom trying to convince Natalie that really he's the one she should be with and using an 'alphabet weekend' system to convince her is a lot of fun. We watch him try to convince her and it's hard not to fall a little in love with him as well and you almost want to strangle Natalie for not realising how perfect he is sooner. The idea of readjusting how you see someone though is unique and not all stars and hearts and rainbows like some books. Moving someone out the 'friend', 'almost sibling' box and putting them into the 'significant other box' isn't easy, so maybe I shouldn't judge her too harshly. Regardless - Tom is adorable and awesome and I loved him so when Natalie upset him, I automatically sided with him even if, deep down, I could understand what was holding her back.<br/><br/>The storyline with Natalie's parents is smaller, but nicely handled as they deal with first her mother's growing depression and then her father's health deterioration. The only weak part I found was the depiction of Patrick and Lucy. Patrick loses his job and feels emasculated and Lucy sees that as a reasoning behind having an affair with her best friend's husband who is a friend of Patrick. I hate, loathe and detest cheating and the justifications behind it and although Lucy gets exactly what she deserves in the end, it annoys me that Patrick doesn't really get anything. I guess that's realistic but it annoyed me slightly that the victim ended up fearing he was going to lose the daughter he had raised, was left out the house and became, as he described, a weekend father when he was the one wronged and the one who deserved more. Lucy's warped justification and almost callous way of dismissing him just made me wish for once that the good guy came out on top.<br/><br/>It was a good book though, much better than I was expecting and actually kinda addictive once you got started. Worth a read if for no other reason than to see how the alphabet makes a good foundation for building a relationship and helping to see someone in a very different light.