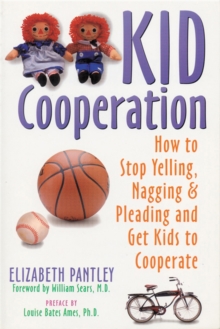 Kid Cooperation : How to Stop Yelling, Nagging and Pleading and Get Kids to Cooperate
Paperback / softback
Description
Would you like to know how to get your children to willingly cooperate?
Would you like to eliminate many of your daily battles and end the yelling, nagging, and pleading?
Would you like to handle discipline issues with knowledge and authority?
During this process, would you like to learn how to boost your children's self-esteem, feel better about yourself as a person, and even improve your marriage?
This book is filled with real ideas for real families - practical, purposeful things you can do to improve family life.
With the tools and skills presented in Kid Cooperation you can achieve the goal of raising happy, confident, self-disciplined children, and enjoy the process! "Here is a book we have long been waiting for, and one that we heartily welcome.
I envy any parent who has the privilege of reading it and learning from it." (Louise Bates Ames, Ph.D., Gesell Institute of Human Development). "Kid Cooperation gives you the tools you need, not only to encourage compliance, but to create a close, loving, and respectful relationship between you and your child." (William Sears, M.D.
Co-Author of The Baby Book and The Discipline Book).
Information
Format: Paperback / softback
Pages: 208 pages
Publisher: New Harbinger Publications
Publication Date: 01/01/1996
Category: Child care & upbringing
ISBN: 9781572240407