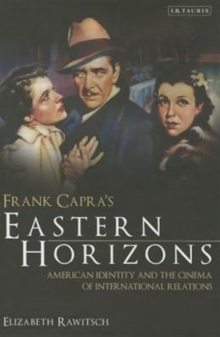 Frank Capra's Eastern Horizons : American Identity and the Cinema of International Relations
Hardback
Description
Frank Capra has long had a reputation as being the quintessential American director - the man who perfectly captured the identity and core values of the United States with a string of classic films in the 1930s and '40s, including It Happened One Night, Mr. Smith Goes to Washington and It's a Wonderful Life. However, as Elizabeth Rawitsch argues, Capra's construction of national identity did not occur within an exclusively national context.
She points out that many of his films are actually set in, or include sequences set in, China, Latin America, the Philippines and the South Seas.
Featuring in-depth textual analysis supported by original archival research, Frank Capra's Eastern Horizons explains that Capra's view of what constituted 'America' changed over time, extending its boundaries to embrace countries often far from the United States. Complicating Edward Said's theory of Orientalism as a strict binary in which the West constructs the East as an inferior 'other', it demonstrates that East and West often intermingle in films such as The Bitter Tea of General Yen and in Capra's orientation documentaries for World War II American servicemen; Capra imagined a kind of global community, albeit one with heavy undertones of British and American imperialism.
Investigating shifts in what Capra's America has meant over time, both to Capra and to those who have watched and studied his films, this innovative book offers a startlingly fresh perspective on one of the most iconic figures in American film history.
Free Home Delivery
on all orders
Pick up orders
from local bookshops