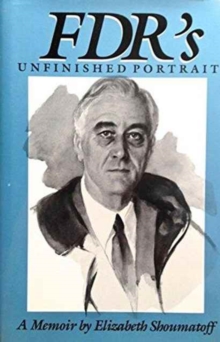 F.D.R.'s Unfinished Portrait : A Memoir
Hardback
Description
On the morning of April 12, 1945, President Franklin Delano Roosevelt, vacationing at the "Little White House" in Warm Springs, Georgia, sat at a table signing papers.
As lunchtime approached, he said, "We have fifteen minutes more to work".
In the words of Elizabeth Shoumatoff, an eyewitness to the scene, "Suddenly he raised his right hand and passed it over his forehead several times in a strange jerky way, without emitting a sound, his head bending slightly forward".
Moments later he was unconsious, and he died, of a cerebral hemorrhage, later that day.
Mrs Shoumatoff had been invited to Warm Springs to paint the president's portrait.
Shortly after his death she wrote an account of her visit and the events that occurred.
Although the "unfinished portrait" has been reproduced many times (and now hangs in the Little White House museum), her narrative has never before been published.
In this memoir, Mrs Shoumatoff describes her early years in Russia, her adjustment to life in America, and her peripatetic life as she painted her subjects in their own homes. She describes the lifestyles and personalities not only of FDR and Lucy Rutherfurd, but also of Helen Clay Frick, the du Pont family, the Mellons, Robert and Nell Woodruff, and the royal family of Luxemburg.
Through her friendship with Harvey Firestone, she received a commission to go to Liberia to paint a formal portrait of President Tubman.
Information
Format: Hardback
Pages: 158 pages, illustrations
Publisher: University of Pittsburgh Press
Publication Date: 01/04/1991
ISBN: 9780822936596
Free Home Delivery
on all orders
Pick up orders
from local bookshops