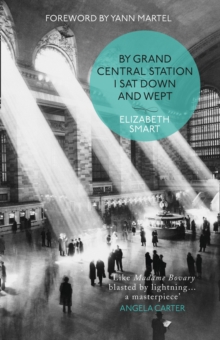 By Grand Central Station I Sat Down and Wept
Paperback
Description
Elizabeth Smart's passionate fictional account of her intense love-affair with the poet George Barker, described by Angela Carter as `Like MADAME BOVARY blasted by lightning ...
A masterpiece'.One day, while browsing in a London bookshop, Elizabeth Smart chanced upon a slim volume of poetry by George Barker - and fell passionately in love with him through the printed word.
Eventually they communicated directly and, as a result of Barker's impecunious circumstances, Elizabeth Smart flew both him and his wife from Japan, where he was teaching, to join her in the United States.
Thus began one of the most extraordinary, intense and ultimately tragic love affairs of our time.
They never married but Elizabeth bore George Barker four children and their relationship provided the impassioned inspiration for one of the most moving and immediate chronicles of a love affair ever written - `By Grand Central Station I Sat Down and Wept'.Originally published in 1945, this remarkable book is now widely identified as a classic work of poetic prose which, seven decades later, has retained all of its searing poignancy, beauty and power of impact.
Information
Format: Paperback
Pages: 160 pages
Publisher: HarperCollins Publishers
Publication Date: 27/03/1991
ISBN: 9780586090398
Free Home Delivery
on all orders
Pick up orders
from local bookshops
Reviews
Showing 1 - 5 of 6 reviews.
Previous | Next
Review by TimFootman
16/06/2015
One for the Morrissey fans out there, maybe.
Review by stevencudahy
16/06/2015
A prose poem of exquisite beauty, a tale of the overwhelming love of an intelligent, articulate woman for a man unworthy of her, a long drawn-out howl in the service of the idea that love can change the world for the better while simultaneously causing grief and mayhem wherever it goes. This is a flawless work, eloquent and moving and in some ways profoundly disturbing. Smart's writing is like fire dancing and flickering - beautiful and terrible in equal measure. Although those readers who like the simpleton A-to-B plotting that dominates so much of modern literature will perhaps find nothing here to like this is a hugely impressive achievement. English has such a massive vocabulary and flexibility to it yet there are few writers who take advantage of that to produce something that stretches the language to breaking point in the service of communicating depth and truth of experience. Anyone who loves language, who loves writing, who loves the idea that words on the page can be more than simple fireside tales writ large, should be thanking whatever deity they believe in every day that people like Elizabeth Smart chose to enter the ring and fight hard to put words on the page. This is a classic, and rightly so, and anyone who picks it up and remains unmoved should perhaps consider seeking professional help.
Review by isabelx
16/06/2015
"By Grand Central Station I Sat Down and Wept' is a wonderful book, the story of a love affair told via poetic imagery and metaphors.<i>'No, my advocates, my angels with the sadist eyes, this is the beginning of my life, or the end. So I lean affirmation across the cafe table, and surrender my fifty years away with an easy smile.'</i>
Review by gypsysmom
16/06/2015
Such a beautifully written book! Every page is imbued with the passion Smart felt for her lover, George Barker. Though, since Barker was married and a Catholic, their love would forever be carried out in secret or if not secret then without the approbation of society.At one point, as detailed in the book, Smart and Barker were actually arrested in Arizona for sharing a bed when they were not married. Smart's mother was mortified by the affair and when this book was published she tried to have it banned in Ottawa. When that didn't work she went out and purchased all the copies she could find and burned them.It would be interesting to know what Barker's wife felt during all this. Initially it seems that Smart was reluctant to consummate the affair because of his marriage. They were all living in a small community in California when the affair started so she must have know what was going on. And from some of the passages about her it seems that she had at least one miscarriage.In the night she moans with the voice of the stream below my window, searching for the child whose touch she once felt and can never forget: the child who obeyed the laws of life better than she....Her shoulders have always the attitude of grieving, and her thin breasts are pitiful like Virgin Shrines that have been robbed.So how difficult it must have been for her to see her husband's mistress give him a child.I must confess I don't think I care for George Barker. Information available on the internet details that he had affairs with other women and at least 7 other children in addition to the 4 Smart eventually had with him. If he had remained true to her I would have felt that the affair was understandable as a grand passion but since he impregnated other women he obviously didn't feel as bound to her as she was to him. 'Twas ever thus.
Review by Bernadette877
27/08/2015
Started off thinking I'd hate this modern classic, having read Brigid Brophy's foreword describing it as a masterpiece of poetic prose. We're in love triangle territory, with the underlying tale running from seduction to abandonment, although the reader has to pull the pieces together. The focus is on the narrator's emotions and she lays claim to a grand passion with extravagant but precise language and imagery drawing on biblical texts and classical myths. As promised (threatened?), this book is more concerned with language, imagery and metaphor than story. However, I'm left with sharper pictures in my head than I ever get from detailed descriptions in straightforward narratives. And while By Grand Central Station could be entirely self indulgent, its unflinching honesty saves it. I enjoyed this book after all.