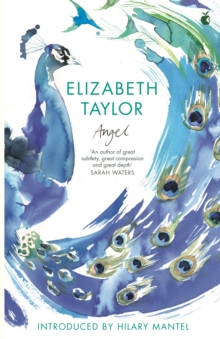 Angel : A Virago Modern Classic
Paperback
Description
Writing stories that are extravagant and fanciful, fifteen-year old Angel retreats to a world of romance, escaping the drabness of provincial life.
She knows she is different, that she is destined to become a feted authoress, owner of great riches and of Paradise House . . .After reading The Lady Irania, publishers Brace and Gilchrist are certain the novel will be a success, in spite of - and perhaps because of - its overblown style.
But they are curious as to who could have written such a book: 'Some old lady, romanticising behind lace-curtains' . . . 'Angelica Deverell is too good a name to be true . . . she might be an old man. It would be an amusing variation. You are expecting to meet Mary Anne Evans and in Walks George Eliot twirling his moustache.' So nothing can prepare them for the pale young woman who sits before them, with not a seed of irony or a grain of humour in her soul.
Information
Format: Paperback
Pages: 256 pages
Publisher: Little, Brown Book Group
Publication Date: 06/04/2006
ISBN: 9781844083077
Free Home Delivery
on all orders
Pick up orders
from local bookshops
Reviews
Showing 1 - 2 of 2 reviews.
Review by janetf8
16/06/2015
The most depressing book I have never finished. After an insightful start, the slow, steady decline becomes unbearable and I skim-read the last few chapters because I could not take any more. Quick, turn to Pickwick Papers to be cheered up ...
Review by LyzzyBee
16/06/2015
(30 June 2012)I had to buy this one new (well, from Green Metropolis, so new to me) as I had managed not to acquire my own copy over the years. So I didn't think it was a reread, until I came to a bit about the somewhat monstrous teenage Angel insisting on writing in hardback exercise books with marbled covers and having a tortoiseshell comb, at which I had a flashback to my mid teens and procurement of the same! So this must have been an early Virago read for me, under the influence of my neighbour who introduced me to Virago and Taylor.A marvellous portrayal of a bad novelist – a monster, but portrayed humanely and with understanding. As the introduction says, is this a portrayal of the monster that lies within all writers? The tiny details are amazing and hilarious, as Taylor really goes to town and appears to be enjoying herself greatly: of particular note was Angel with a dress cut so low that you could see the top rows of her ribs; sitting up in bed with her apricot armpits; and walking across her acres accompanied by a troupe of cats. And the creative process is minutely described, even if what she is writing is more akin to the works of Marie Corelli, on whom she is based (is she an early E.L. James, of "Fifty Shades of Grey" fame, I wonder!) than to the works of Taylor herself. The pathos, of course, comes in, too, particularly in relation to her publisher, although there are some delightful scenes with the publisher, too.On rereading: I didn't remember much of the plot, but did remember the atmosphere of the book – and obviously admired Angel more in my own teens than I do now!
Also in the Virago Modern Classics series | View all